XL stormy swells for Hawaii, good trade-swell event for Micronesia and PNG
Hawaii North Shore, Micronesia and PNG forecast by Craig Brokensha (issued on Tuesday 5th February)
This week and next (Feb 6 - 15)
Hawaii: We've got easing surf from the weekend with less than ideal conditions today. A slight bump in size is due for tomorrow morning but only to 4ft or so but with weaker E/NE trades.
Later in the day and more so Wednesday our better increase in larger and inconsistent NW groundswell should fill in, spiking North Shore magnets to 6-8ft. Winds will be good and light offshore, variable though sea breezey into the afternoon, OK early Thursday as the swell eases before deteriorating with an increasing NW'ly through the day.
This NW'ly and stronger breezes from Friday through the weekend will be linked to a strong front spawning off a strong low that's currently formed off Japan. This front will actually combine with a surface trough to the north of the islands, deepening into a low as a strong high pressure system sits north-northwest.
We'll see poor conditions and weather along with an oversized stormy N/NW swell as the low is forecast to project down into the region through the weekend.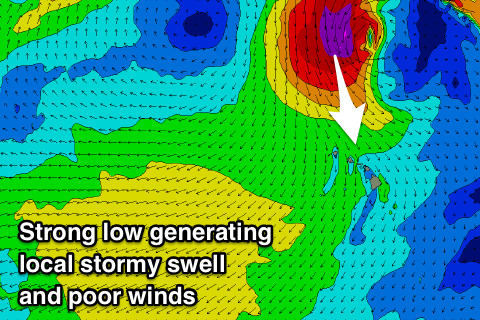 Coming back to the initial low though, and an XL long-period NW groundswell should be seen from this source, arriving later Friday and building to 12ft to possibly 15ft, similar Saturday morning. This will be with those poor winds and a stormy N/NW swell that looks to peak Sunday to a similar size.
We'll see the stormy swell settle down from Monday but with poor N'ly winds, persisting through Tuesday and Wednesday next week along with possibly more mid-period swell but out of the NE.
A return to normal programming isn't expected until late next week but with no decent swell. More on this Thursday.
North Shore Forecast Graph
North Shore WAMs
Micronesia: More pumping surf over the weekend and into yesterday. The swell has eased into today but we've got one final pulse of N'ly groundswell due later today and more so tomorrow across the region.
This swell, generated over the weekend should provide 5-6ft sets across our premiere breaks, easing into the afternoon and down further Thursday and Friday. A couple of small background pulses (3ft) will keep these spots active through the weekend, but we'll see trade-swell out of the E/NE become the dominant source of swell from next week.
From later this week we'll see a very impressive and strong fetch of E/NE trades developing throughout the Pacific Ocean, extending from near Papua New Guinea to Hawaii.
This will generate moderate to large levels of E/NE trade-swell for our exposed east facing shores, with moderate sized sets pushing into more protected spots from Friday afternoon through Monday.
The low projecting into Hawaii should generate a NE groundswell for Tuesday/Wednesday next week that should provide a bit more size and power again but with less than ideal NE trades.
Palikir Pass Forecast Graph
Palikir Pass WAMs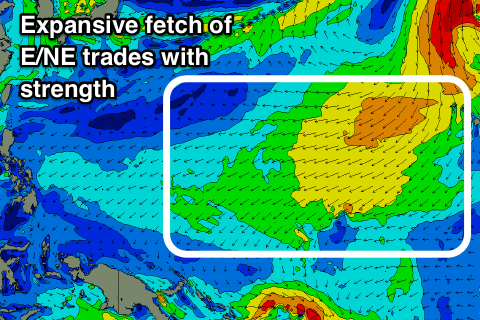 Papua New Guinea: The N'ly groundswell is on the ease across the region, though we'll see one final pulse on Thursday, coming in at 3-4ft across north swell magnets before easing from Friday.
We'll then see a gradual upwards trend in NE trade-swell from Friday through the weekend from the expansive fetch of E/NE trades, building to an easy 5-6ft or so early next week, holding around 4-6ft through most of it before easing slightly next weekend.
Winds are an issue though through the period with W/NW breezes the next couple of days due to freshen from the NW into the weekend and remain so through most of next week (possibly tending more W/NW late week). This will limit surfing options across the region.