Troublesome winds for Hawaii, better in Micronesia and PNG
Hawaii North Shore, Micronesia and PNG forecast by Craig Brokensha (issued on Thursday 31st January)
This week through next weekend (Feb 1 - 10)
Hawaii: We should have seen some new swell building later today across the North Shore and the Waimea buoy confirms this, though the bulk of the size is expected tomorrow morning to 6-8ft across the North Shore. A touch larger and stronger pulse of reinforcing swell is due later in the day with sets expected to push to 8-10ft, generated by a stalling fetch of severe-gale to storm-force W/NW winds off the Kamchatka Peninsula.
This swell should then ease Friday from the 8ft range on the sets, smaller into Saturday morning.
Winds will remain an issue tomorrow and out of the N/NE, improving slowly Friday and tending E/NE through the day as the swell eases.
We'll then see slightly unfavourably and fresh E/NE-NE trades through the weekend and all of next week as a strong high stalls to our north-east, squeezed on its southern flank by tropical depressions.
Our new W/NW groundswell for the weekend has been upgraded, with the broadening low that spawned off Japan being a touch stronger than expected on Tuesday.
We should see 6-8ft sets on the swell magnets Sunday, with the swell kicking later Saturday, easing through the day and smaller into Monday.
We'll then see our pulses of inconsistent NW groundswell from good fetches of W'ly gales off Japan, with a slight upgrade of the strength and width of the main swell producing system.
Firstly a poorly aimed and side swiping fetch of gale to severe-gale SW winds will produce a minimal spike of W/NW swell for later Monday and Tuesday morning to the 4ft range or so, but the larger inconsistent NW groundswell is due to arrive late in the day and peak Wednesday morning to a good 6-8ft across the North Shore.
Winds look to persist out of the NE though, strong at times as the swell eases Thursday.
Longer term, we may see a significant low spawning off Japan early next week, generating an oversized NW groundswell for late next week/Saturday but more on this in the next update.
North Shore Forecast Graph
North Shore WAMs
Micronesia: Great waves with good levels of N/NE groundswell, with the swell starting to ease through today.
We'll see it continue to drop tomorrow from a good 4-5ft+ ahead of our new long-period N'ly groundswell Saturday.
There's been no change to the expected size with easy sets to 6-8ft due on Saturday morning, easing off into the afternoon and more noticeably from Sunday. The trend will continue down through early next week ahead of the groundswell from the broad and good fetch of W/NW gales off Japan.
We should see this swell peaking Wednesday to 4-6ft. From here it'll get smaller as some E/NE trade-swell starts to overpower the groundswell, with a possible new N'ly swell next weekend.
Palikir Pass Forecast Graph
Palikir Pass WAMs
Papua New Guinea: Our average westerly winds will ease off through tomorrow and become lighter and more variable from Saturday in the mornings, NW into the afternoons.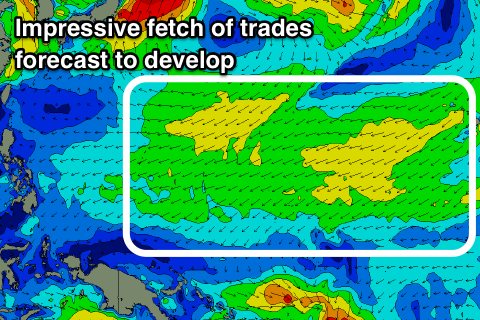 Swell wise we should have seen a new N'ly groundswell this afternoon with it holding an inconsistent 4-5ft tomorrow across swell magnets.
This swell should ease Saturday ahead of a late pulse of bigger N'ly groundswell, peaking Sunday to 4-5ft+.
From here it's a slow downwards trend with building levels of NE trade-swell from later next week and more so next weekend.
There'll be one more N'ly groundswell signal in the water next Thursday to 3ft+ or so but the trade-swell will be generated by an elongated, broad and strengthening fetch of E/NE trades extending from Hawaii down to Micronesia. The fetch is really expected to muscle up next weekend and with this we're likely to see moderate to large levels of NE trade-swell early the week of the 11th, but more on this next update.