Improving surf on the North Shore late week, great Micronesia
Hawaii North Shore, Micronesia and PNG forecast by Craig Brokensha (issued on Tuesday 29th January)
Best Days: Every day over the coming period
This week and next (Jan 30 – Feb 8)
Hawaii: After pumping surf through the end of last week, conditions have been average with poor winds and a low point in swell. We're currently seeing a new long-period NW groundswell building on the North Shore but conditions are average with gusty N/NE winds.
We'll see winds remain average through tomorrow and Wednesday out of the N/NE and NE respectively as this afternoon's increase in swell slowly drops away. There should still be 6ft sets on offer tomorrow morning, smaller into Wednesday morning. Also in the mix will be a moderate sized N/NE windswell from the N/NE winds, but with no major size or power.
Later in the day Wednesday we should see the long-period forerunners showing linked to a large and powerful NW groundswell due Thursday.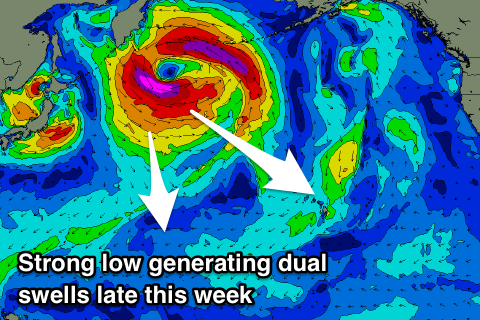 This is being generated by an intense low that's formed east of Japan and is now stalling south-east of the Kamchatka Peninsula.
An initial tight fetch of severe-gale to storm-force W/NW winds were generated, with a broader fetch of severe-gale to storm-force NW winds currently being aimed towards us. The low will weaken through today, with two seperate pulses of groundswell due.
The first should build to the 6ft range by later Wednesday, if not a touch bigger, peaking Thursday morning to 6-8ft. Later in the day though a larger increase in size is expected to 8-10ft, easing off slowly from the 8ft+ range Friday morning, half the size into Saturday.
Conditions will improve from Thursday afternoon as E/NE trades kick back in, persisting Friday and weaker into the weekend.
Into Sunday we've got some new W/NW groundswell due, followed by persistent NW pulses early to mid-next week.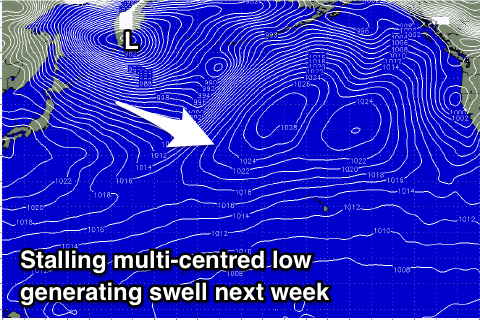 Sunday's increase will be linked to a strong low forming off Japan, broadening in scope while weakening as it pushes towards us through our western swell window over the coming days.
The swell will be inconsistent and quite west in nature, arriving later Saturday and peaking Sunday morning in the 6ft+ range.
Behind this a broad and multi-centred low sitting across the Kamchatka Peninsula will project fetches of W/NW-NW gales off the north-eastern corner of Japan, generating inconsistent but good pulses of NW groundswell.
These look to come in around 6-8ft from Tuesday afternoon through Wednesday next week, but we'll review this Thursday.
North Shore Forecast Graph
North Shore WAMs
Micronesia: Our great run of swell continued yesterday with a new N/NW groundswell, easing off through today.
From tomorrow we'll see large back to back pulse of N/NW groundswell from the storms forming off Japan from the weekend through the coming days.
Tomorrow's should build to a strong 6-8ft on the north facing reefs, with the easing trend slowed owing to the secondary pulse generated by the stalling fetch currently off the Kamchatka Peninsula.
6ft+ surf is due most of Thursday, easing back Friday.
We when look at the swell for the weekend generated by the low spawning off Japan while broadening in scope. This storm will push closer to us, generating another large Nly pulse for Saturday to a consistent and easy 6-8ft, easing later in the day and more so from Sunday.
The multi-centred low generating fetches off north-eastern Japan will be a less favourably positioned in our swell window, but we'll see fun N/NW groundswell pulses continuing into next week, peaking Wednesday to 4-6ft or so. Winds look favourable with fresh and gusty E/NE trades, lighter at periods through the days.
Palikir Pass Forecast Graph
Palikir Pass WAMs
Papua New Guinea: We should be seeing a new inconsistent N'ly groundswell building across the region, with sets to 3ft due this afternoon, holding tomorrow.
A mix of slightly larger N'ly groundswells are due into Thursday and Friday across the region, building to 4-5ft slowly on the former, and holding around a similar size on the later. Winds will become a bit of an issue though owing to a tropical depression sitting to our north-west.
This will direct fresh W-W/NW winds across us Thursday, a little more NW Friday before easing temporarily into the weekend though having a more N'ly tendency (variable early Saturday and Sunday mornings).
The largest increase in N'ly groundswell from the southward protruding low off Japan is expected on Sunday, providing 4-5ft+ sets through the day as it peaks, easing off into Monday and smaller Tuesday.
It looks like W/NW winds will move back in and there'll also be some mid-period N/NE trade-swell in the mix to the 4ft range.
Things will settle down slowly from mid-late week, but there'll still be waves to 3ft, although winds may worsen. More on this Thursday.