Great outlook for the greater Pacific
Hawaii North Shore, Micronesia and PNG forecast by Craig Brokensha (issued on Thursday 24th January)
Best Days: Every day over the coming period
This week and next (Jan 25 – Feb 1)
Hawaii: Pumping surf today with the large W/NW groundswell filling in under offshore winds providing easy 10ft surf.
We should see the surf persisting around the 10ft range across magnets tomorrow as a reinforcing NW groundswell fills in, easing back into the afternoon and then back to the 6-8ft range on Friday.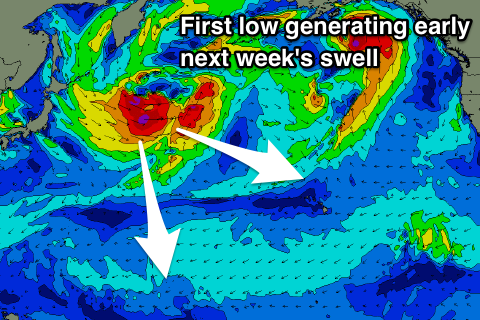 As touched on last update, conditions will remain excellent tomorrow, but into Friday winds will take a turn for the worse, tending N/NW and then stronger N/NE as a surface trough and strong high edge in from the north-west.
The trough is forecast to develop into a weak low north-northwest of us, but not linger like it was expected to last update.
We'll still see average and gusty NE winds as the NW swell energy continues to ease Saturday, improving Sunday with E/NE trades but fading 4-5ft sets.
Our new long-period NW groundswell for early next week is still on track, and so is a slightly better swell for the end of the week.
A strong low will spawn off Japan this evening, projecting a good fetch of severe-gale to near storm-force W/NW winds towards us before tracking away to the north on the weekend.
A good long-period NW groundswell should be created, building Monday and reaching 6-8ft+ across the North Shore by late in the day, easing from 6ft+ Tuesday morning with weak E/NE trades (more NE Monday afternoon).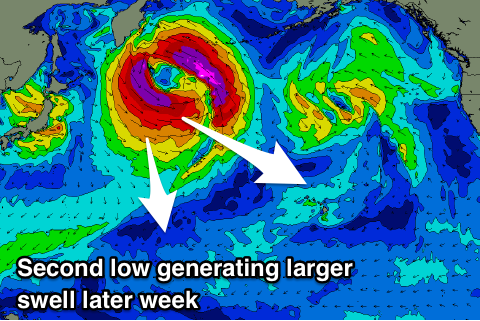 Wednesday will be smaller while into Thursday we should see our secondary long-period W/NW groundswell filling in.
This second swell will be produced by another broader and stronger, but more distant low spawning off Japan Sunday. The structure of this low will be broader but not as favourably aligned in our swell window, with a thin fetch of severe-gale to storm-force W/NW winds initially generated, followed by storm-force NW winds as it stalls off the Kamchatka Peninsula.
We'll see an inconsistent long-period W/NW groundswell building Thursday, easing Friday ahead of an inconsistent reinforcing NW groundswell pulse Saturday afternoon, easing Sunday.
Size wise the first swell should reach 6-8ft+ by dark Thursday, ease from a similar size Friday, with Saturday's pulse kicking back to 8ft on the sets, easing from 6ft+ Sunday.
Winds look favourable and offshore Thursday out of the E/SE-SE, variable Friday and then gusty out of the E/NE next weekend. More on this Tuesday and continued follow up swell activity.
North Shore Forecast Graph
North Shore WAMs
Micronesia: As touched on last update, the coming period will continue to pump out of the north with back to back to back groundswells expected over the coming fortnight.
We should be seeing the large swell from earlier in the week hanging around 4-5ft today with a mix of long-period and mid-period energy though with a bit of wind. Both are due to ease back from the 4-5ft range tomorrow morning, smaller into the weekend.
We'll then see the first long-period N/NW groundswell filling in Monday, generated off the first low mentioned in Hawaii's notes, building to 4-5ft+, and easing from a similar size Tuesday morning.
The secondary low will be broader and further south while also more favourably angled in our swell window, producing a larger increase in size on Wednesday, building to an easy 6-8ft Wednesday afternoon and evening, easing slowly from a similar size Thursday, slowed by the reinforcing long-range N/NW groundswell Friday.
Longer term another large N'ly groundswell ay be seen the first weekend of February, but more on this Tuesday.
Palikir Pass Forecast Graph
Palikir Pass WAMs
Papua New Guinea: A good though inconsistent N'ly groundswell is easing across the region and will continue to slowly ease off through tomorrow and into the weekend ahead of a new small inconsistent pulse on Tuesday.
Infrequent 3ft sets are due into Tuesday afternoon and Wednesday morning ahead of the larger swell late week. This larger swell looks great and will hopefully reach 4-6ft through Thursday afternoon across north facing breaks, easing from 4-5ft+ Friday. Winds look generally variable and conditions clean with tropical developments possibly bringing poor W/NW winds into Monday the first week of February.