Great North Shore before winds go AWOL, pumping Micronesia
Hawaii North Shore, Micronesia and PNG forecast by Craig Brokensha (issued on Tuesday 22nd January)
This week and next (Jan 23 - Feb 1)
Hawaii: Coming off a low point in swell we should be starting to see some new mid-period NW swell building across the islands this afternoon, peaking tomorrow to 4-5ft across North Shore magnets.
This small mid-period swell is the pre-cursor to a larger and stronger W/NW groundswell Wednesday (upgraded since last Thursday), follow by a reinforcing pulse on Friday afternoon.
Our first and largest pulse of W/NW groundswell was generated by a broad and slow moving fetch of strong to gale-force W/NW winds spawning off Japan, with a secondary fetch projecting of severe-gale W/NW winds on top an active sea state.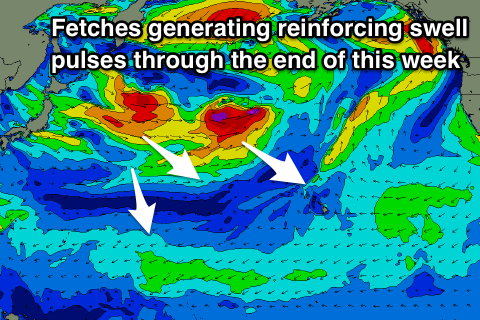 This has generated a large though inconsistent W/NW groundswell that's expected to fill in Wednesday and peak to 8-10ft+, with a secondary kick on Thursday from the NW linked to a fetch of gale to severe-gale W'ly winds currently north-west of us.
We'll continue to see 8-10ft surf, dropping through the afternoon and smaller into Friday morning and around 6-8ft.
A new NW groundswell should be seen into the afternoon, generated by a fetch of W/NW gales that are currently just east of Japan and will project towards us over the next day or so.
This looks to maintain 6-8ft waves on the North Shore, if not for the odd sneaky bigger set through the afternoon, before easing gradually Saturday and further Sunday.
Winds over the coming days look great with E/SE offshores, though come Friday a burst of strong NW winds pushing close to the islands will interfere with us, bringing increasing N/NW tending N/NE winds.
Average N/NE tending NE winds will be seen as the swell eases Saturday, persisting Sunday though only moderate to fresh.
A fun new long-period and inconsistent NW groundswell is due early next week, produced by another low spawning off Japan, generating a fetch of gale to severe-gale winds though the storm will be deflected away from us while approaching the date line.
This will limit the size of the swell to 6-8ft, with it building Monday and peaking overnight, easing from the 6ft+ range Tuesday morning. Unfortunately winds will remain poor as a surface low squeezes a strong high to our north, directing N'ly winds into us throughout the whole event.
It looks like these unseasonal N'ly winds will linger into the end of the week and following weekend as the low stalls to our north, but more on this Thursday.
North Shore Forecast Graph
North Shore WAMs
Micronesia: Our great run of clean N'ly groundswell continues today with a large pulse filling in. It should reach an easy 6ft+ by later today, easing off from the 6ft range tomorrow morning.
A new long-period reinforcing N'ly groundswell should then be seen to arrive tomorrow afternoon, keeping wave heights around an easy 4-5ft, similar Thursday as a mid-period swell also pushes into the mix.
Winds are due to swing a little less favourable and out of the NE on Thursday but back to the E/NE on Friday as both swells start to ease back from 4-5ft, smaller into the weekend as the trades continue to ease, tending variable into Monday next week.
The strong low forming off Japan later this week will generate a new N'ly groundswell pulse for Monday afternoon, building to a good 4-5ft+ later in the day before tailing off from 4-5ft Tuesday.
Another low forming off Japan over the weekend will develop much further south and be more prolonged in our swell window, with moderate to large levels of mid-period N/NW tending longer-period N'ly groundswell due from Wednesday through the end of the week with favourable E/NE trades. This will create a great run of waves for the region, but we'll confirm this on Thursday.
Palikir Pass Forecast Graph
Palikir Pass WAMs
Papua New Guinea: Easing levels of swell across the region today, but tomorrow we should see a new inconsistent N'ly groundswell filling in, reaching a good 3-5ft into the afternoon, easing off slowly from the 4ft range Thursday as winds become more variable.
The easing trend will be slowed by reinforcing pulses of inconsistent N'ly groundswell Friday, smaller into the weekend.
The surf will be smaller into early next week and around an inconsistent 2ft to sometimes 3ft, ahead of the N'ly swell event mentioned in the Micronesian notes. We're looking at fun waves from Thursday through next weekend, but more on this next update.