Tuesday, 20 November 2018
First significant swell of the season inbound
Hawaii North Shore, Micronesia and PNG forecast by Craig Brokensha (issued on Tuesday 20th November)
Best Days: Tuesday North Shore, Sunday onwards North Shore, Wednesday, Micronesia Wednesday and Thursday and then Tuesday next week onwards
This week and next (Nov 21 - 30)
Hawaii: We've got small surf on the coast today, but our new NW swell for tomorrow is on track, but with an earlier arrival time and a touch less size.
The swell looks to be more mid-period with the low generating it being weaker, coming in around 4-5ft+ across North Shore swell magnets easing off into Wednesday and becoming tiny to flat into the end of the week and Saturday.
It finally looks like we'll see some winter calibre storms forming into the end of the week and weekend, with back to back lows forecast to develop south-east of the Kamchatka Peninsula.
An initial low should generate an initial fetch of W/NW gales, likely severe-gale at its strongest, producing a good long-period NW groundswell for Sunday.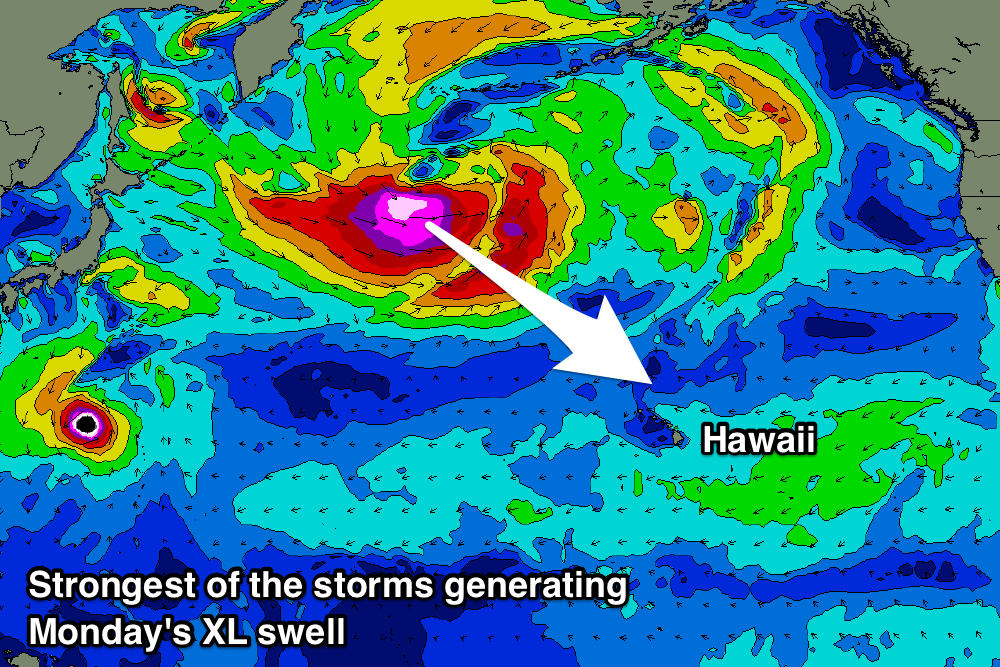 The swell is expected to build to 8ft on the sets across the North Shore through the afternoon with morning offshores and afternoon sea breezes.
A much stronger and broader low is then due to develop on the back of this initial storm, projecting a fetch severe-gale to storm-force W/NW winds ideally towards the islands.
An XL NW groundswell should be produced, filling in Monday and at this stage push to the 15ft+ range across the big wave reefs. There are a couple more swells on the cards following this as well, but we'll look at this again Thursday.
North Shore Forecast Graph
North Shore WAMs
Micronesia: Currently we've got a deepening tropical low that is forecast to deepen into a typhoon over the coming day and with this strong southerly winds on its southern flank will generate a building S'ly swell tomorrow but with S'ly winds.
Thursday should be much cleaner as winds go variable and the swell eases out of the S/SW from the 4-5ft range across exposed south facing breaks.
Tomorrow we should also see the N'ly swell across exposed reef passes, coming in around 3ft+ on the sets.
We then look towards the lows forming in our northern swell window and pulses of N/NW groundswell through next week.
We should see a small initial increase in groundswell on Tuesday ahead of the better N/NW groundswell from the strongest low on Wednesday afternoon and Thursday.
Size wise we should see 5-6ft sets at exposed northern reef passes and with week favourable trades. There's a possible follow up swell as well, but more on this Thursday.
Palikir Pass Forecast Graph
Palikir Pass WAMs
Papua New Guinea: Not much in the way of surf still expected across the region through this coming period until later in the week and next weekend when the inconsistent N'ly groundswell filters down.
The typhoon off to our north will hardly have any swell generating fetch on its eastern flank in our swell window and won't produce any decent swell at all. Small 2ft sets from the N/NE are likely, small to tiny until our first pulse of N/NW swell Friday to 3ft on the sets, likely bigger on the weekend of the 1st/2nd.