North Shore flatline ahead of swell next week
Hawaii North Shore, Micronesia and PNG forecast by Craig Brokensha (issued on Tuesday 27th February)
Best Days: North Shore magnets Sunday onwards, and N'ly friendly breaks from Monday
This week and next (Feb 28 – Mar 9)
Hawaii: After a good run of swell last week (click for gallery), the surf really backed away through the weekend, with no major swell due at all this week.
This is due to strong blocking highs across our main swell windows, while a strong ridge to our east will aim persistent strong E'ly trades across the region.
We'll see a couple of strong storms spawning of Japan but then deflected away to the north which isn't ideal at all.
Some small inconsistent NW groundswell pulses are expected off this activity, the first arriving later Saturday and peaking Sunday to 3ft or so across swell magnets.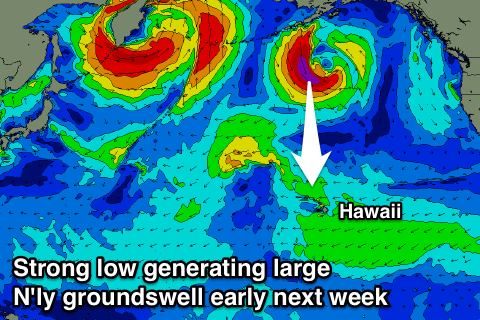 A secondary slightly better increase is due Tuesday next week, reaching 3-4ft before fading slowly Wednesday.
Of greater importance is a larger N'ly groundswell due across the North Shore early next week with a reinforcing N/NE groundswell pulse later week.
This will be generated by an intense low forming south-west of Alaska, generating a good fetch of severe-gale to storm-force N/NW winds in our northern swell window.
The low will project slightly towards us before weakening and then stalling, restrengthening a touch, helping generate a secondary N/NE swell.
The strongest stage of the low should produce a large long-period N'ly groundswell that will arrive Monday morning and build to a strong 6ft across northerly friendly breaks, with the projection towards us generating larger 6-8ft surf on Tuesday.
A temporary drop in size is then due Wednesday ahead of a possible kick back to 6-8ft Thursday, but we'll review this on Thursday.
Winds will swing more north-east through next week though, creating less than favourable conditions.
North Shore Forecast Graph
North Shore WAMs
Micronesia: After some great N/NW groundswell late last week the swell has been on the decline and over the coming period there's nothing major at all due out of the north.
Instead small to moderate amounts of E/NE trade-swell will sneak into protected breaks out of the trades, building through the end of the week and peaking Saturday before easing from Sunday into next week.
This will be with gusty E/NE trades and only reaching 3ft or so, with easing winds into mid-next week. There's the possibility of some small N/NE swell later next week, but more on this Thursday.
Palikir Pass Forecast Graph
Palikir Pass WAMs
Papua New Guinea: Lighter winds are being welcomed across the PNG region, variable each morning ahead of local sea breezes and we've got a slow drop in NE trade-swell on the cards.
Magnets should still see 3ft+ waves tomorrow morning, easing slowly through the end of the week before the swell starts building again from Saturday owing to a slight intensification of the trade-belt to our north-east.
We should see exposed breaks reaching the 4ft range through Monday next week, easing slowly into Wed and Thursday as the trades break down.