Large to XXL swells incoming
Hawaii North Shore, Micronesia and PNG forecast by Craig Brokensha (issued on Thursday 7th December)
Best Days: Every day over the coming period
This week and next (Dec 8 – 15)
Hawaii: A large pulse of mid-period N/NW swell today will ease back through tomorrow, dropping from 10-12ft during the morning, further from 8ft+ Friday (the first day of the Pipeline Masters waiting period).
Winds will back off and be variable through the mornings creating decent conditions before sea breezes kick in.
The swell will continue to fade on Saturday ahead of a very large close-range N/NW swell Sunday.
This swell will be generated by a strong front forming north of us tomorrow generating a fetch of W/NW gales, followed by a secondary system moving on top this active sea state and projecting right down towards us.
This will produce an oversized N/NW groundswell for Sunday, building to the 12-15ft range through the afternoon though with gusty NE tending E/NE winds.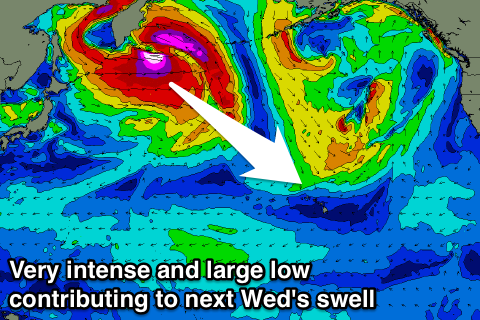 More variable winds from the south are due into Monday as the swell starts to ease from 10-12ft.
Now, moving into Tuesday and more so Wednesday we'll see a very significant weather event and swell occurring in the North West Pacific Ocean.
During the Northern Hemisphere winter we see a semi-permanent and broad low pressure system developing around the Aleutian Islands, know as The Aleutian Low.
The Aleutian Low is the main steering mechanism for storms in the north-west Pacific Ocean, with it usually consisting of smaller embedded storms rotating anti-clockwise from west to east.
A strong Aleutian Low will form this weekend, with an initial vigorous storm developing off the Kamchatka Peninsula expected to generate a fetch of storm to hurricane-force W/NW winds.
This will generate a very large long-period NW groundswell, but a secondary front spawning off this initial storm will project a fetch of gale to severe-gale W/NW tending NW winds right down towards Hawaii.
We'll see these swells combine, producing XXL surf into Wednesday coming in around 25-30ft+ across the outer reefs though with onshore N/NW winds.
The front will clear to the north on Thursday resulting in easing XL surf and improving winds on Thursday from the NE, back to the E/NE Friday with more accessible and easing 10ft+ surf. More on this Tuesday though.
North Shore Forecast Graph
North Shore WAMs
Micronesia: We've got a continuation of E/NE trade-swell through the coming period, peaking in size tomorrow owing to a peak in strength of the trades.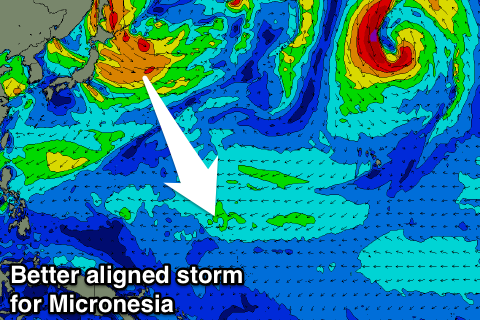 The trades will weaken into the weekend, resulting in the swell dropping away, but locally winds will still be onshore for spots seeing any size. The strength of this trade-swell isn't great either, with no size getting into protected spots.
Later next week we should see some small N'ly groundswell filtering down from the strong low off the Kamchatka Peninsula, but the size looks to be limited due to the fetch being aimed perpendicular to our swell window.
North facing breaks are expected to build slowly later Thursday and peak Friday afternoon to 3ft+, though very inconsistent. Longer term some better storms forming forming and stalling off Japan should generate some better N/NW groundswell, but more on this Tuesday.
Palikir Pass Forecast Graph
Palikir Pass WAMs
Papua New Guinea: The main thing we're concerned with at the moment are the winds, and they're expected to remain fresh from the W through tomorrow, weakening into Saturday but lingering from the NW, more variable each morning.
Some fun NE trade-swell should build into the weekend to 3-4ft across magnets through late Saturday and Sunday, easing back slowly through Monday.
We'll then see sets hanging around an inconsistent but good 3ft all of next week before easing from next weekend.
The N'ly groundswell impacting Micronesia should start to filter down from early the week of the 17th, but more on this Tuesday.