Lots of activity across the North Pacific
Hawaii North Shore, Micronesia and PNG forecast by Craig Brokensha (issued Thursday 23rd November)
Best Days: North Shore Friday afternoon, Saturday, late Sunday, Monday morning, Wednesday onwards, Micronesia and PNG later next week
This week and next (Nov 24 – Dec 1)
Hawaii: Poor conditions out across the North Shore today with gusty NE winds and a building N'ly swell. It's mostly junky windswell at this stage, but some larger groundswell is due later, peaking tomorrow across the region.
We should see XL 15ft+ surf across breaks exposed to the north swell tomorrow, much smaller at other breaks. Peahi will be larger again due to its direct positioning to the incoming swell and amplifying nature.
Winds are now looking a little more NE than E/NE tomorrow, keeping conditions fairly raw and junky, while better E/NE trades should develop from Friday as the swell eases back from 10-12ft at exposed breaks to the north-northeast.
The surf should continue to bottom out into the weekend, ahead of our new long-period N'ly groundswell due late Sunday, peaking Monday.
This swell has been downgraded in size slightly, with the fetch of severe-gale to storm-force winds pushing through the Bering Sea and across the Aleutians not being quite as favourably aimed.
Still we should see a moderate to large sized N'ly groundswell for Monday morning, followed by a secondary pulse later in the day, easing Tuesday.
Exposed breaks to the north swell are due to come in around 6-8ft on Monday, easing back slowly from the 6ft range Tuesday morning.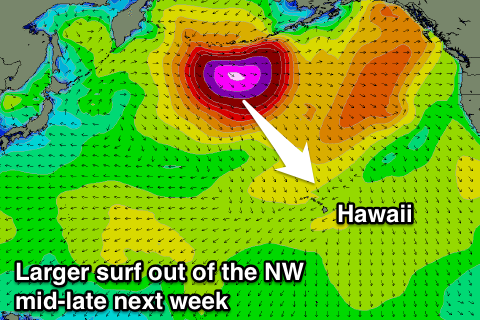 Winds are looking average for these breaks though with a gusty E/NE-NE breeze both Monday and Tuesday.
Now, as touched on in the last update, we'll see a return to normal proceedings heading into the end of Novemeber start of December, with a couple of significant storms due to develop in our north-western swell window.
The first system will be an initial tight and intense low forming off the Aleutians, generating a fetch of storm-force W/NW winds in our north-western swell window before re-intensifying to our north, with an additional fetch of severe-gale to storm-force N'ly winds being generated.
Two large groundswells should be seen, the first out of the N/NW for Wednesday, with a reinforcing N'ly pulse to follow.
Size wise, we're expecting 10ft sets at this stage through the day Wednesday, easing through the day, while a drop in size is due into Thursday.
Of greater importance is a much larger and stronger low forming south-east of the Kamchatka Peninsula early next week, with a possible XL N/NW groundswell later next week, but more on this next update.
North Shore Forecast Graph
North Shore WAMs
Micronesia: As talked about on Tuesday, we'll not seen any decent swell developing across our region until early-mid next week, when a great fetch of strengthening E/NE trades are due develop in our region, extending across the Central Pacific right over to Hawaii.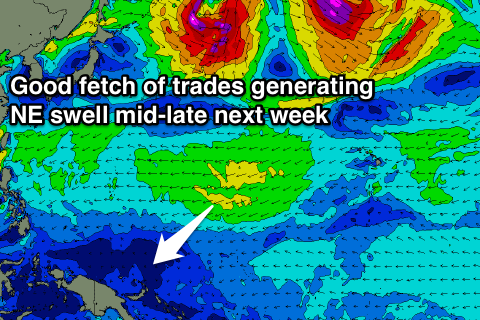 The trades will kick in over the weekend, with the swell due to build from Tuesday, with a peak through Wednesday afternoon and Thursday morning across exposed breaks to the swell.
Winds will be poor and onshore for these breaks Tuesday and Wednesday and out of the E/NE, but a relaxation of the trades through Thursday and Friday should open more options for a surf across the more exposed passes.
The swell is due to ease accordingly through the end of the week and weekend, with a possible renewal in swell the following week, mixed in with some small N'ly groundswell, but more on this Tuesday.
Palikir Pass Forecast Graph
Palikir Pass WAMs
Papua New Guinea: The trade-swell for Micronesia will build across our region later in the week, rising Thursday and reaching 4ft on the sets into the afternoon, persisting Friday before tailing off slowly from Saturday with generally variable winds during the mornings and afternoon sea breezes.