Large N'ly swells continue across the North Shore
Hawaii North Shore, Micronesia and PNG forecast by Craig Brokensha (issued Tuesday 21st November)
Best Days: Every day over the coming period
This week and next (Nov 22 – Dec 1)
Hawaii: Currently we've got poor and junky levels of N'ly swell breaking across the North Shore, but with size.
This mid-period energy is being generated by a broad and elongated fetch of N/NE winds that are being aimed through our northern swell window.
Sets are coming in around the 6-8ft range across locations exposed to the north swell, though we should see a temporary drop in size through tomorrow from 6ft+, further into Wednesday morning.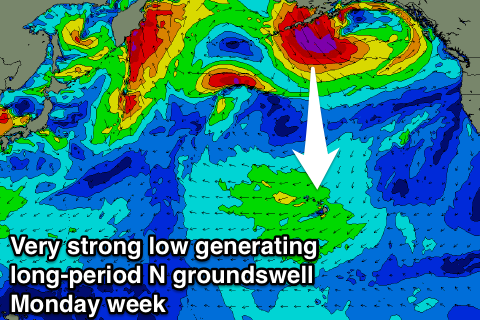 Conditions will remain average though with a persistent N/NE breeze tomorrow, more NE through Wednesday.
Now later in the day Wednesday and more so Thursday, our consistent XL N'ly swell is due to fill in, with a slight downgrade in the size expected from last Thursday's article.
We're still set to see very large surf, as an elongated fetch of N/NW gales are projected southward towards us, followed by a secondary intensification of gales on top of an active sea state, moving in a capture fetch like motion.
This will generate the largest component of the swell, with a late increase in size due on dark Wednesday ahead of a peak Thursday morning.
The North Shore's exposed breaks to the N swell are due to come in at 15ft+, while other spots will be much smaller. Peahi should see larger sets due to its direct positioning to the incoming swell and amplifying nature.
A ridge of high pressure moving in from the north-northwest will swing winds more favourable and around to the E/NE, but they'll be fresh and gusty.
The swell should ease off later in the day Thursday, dropping more noticeably out of the N/NE Friday from 10-12ft or so.
Some small to moderate sized reinforcing N/NE swell is expected on Sunday, generated by a small tight fetch of N'ly gales lingering south of Alaska over the coming days, but this will be overridden by a new long-period and powerful N'ly groundswell on dark and more so Monday morning.
Another significant storm is forecast to develop in the Bering Sea, projecting a fetch of severe-gale to storm-force N/NW winds through out northern swell window, while also projecting south towards a location between us and the Californian coast.
A large long-period N'ly groundswell should be generated, arriving late Sunday, peaking Monday morning to 10-12ft+ across north facing breaks, but we'll review this on Thursday.
Longer term we're likely to see a return to normal programming with NW swell energy through the start of December..
North Shore Forecast Graph
North Shore WAMs
Micronesia: No decent swell energy on offer at all this week or weekend, with small levels of NE trade-swell with fresh E/NE trades.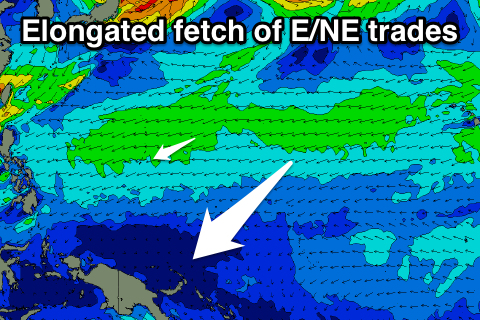 Moving into the middle of next week we should see the NE energy ramp up as a broad, strong and elongated fetch of E/NE trades setup right off our region, and over through the Central Pacific to Hawaii.
This isn't great for the classic passes, as they are sheltered from this NE energy, and more exposed breaks will be onshore, but semi-protected breaks should offer waves from Wednesday through the following weekend and beyond.
Palikir Pass Forecast Graph
Palikir Pass WAMs
Papua New Guinea: Similar to Micronesia, there's no decent surf due until later next week when we'll see some fun NE trade-swell filtering down from the Pacific Ocean, with exposed breaks at this stage due to build to the 4ft range Friday, but more on this next update.