Great easing surf, fun swell next Monday
Hawaii North Shore, Micronesia and PNG forecast by Craig Brokensha (issued Thursday 9th March)
Best Days: Every day over the coming period until Thursday across the North Shore, Micronesia later next week, PNG tomorrow and Saturday morning, later next week
This week and next (Mar 10 – 17)
Hawaii: Easing surf has been seen the last couple of days, but we're now seeing a large and powerful N/NW groundswell building across the North Shore but with average N/NE winds.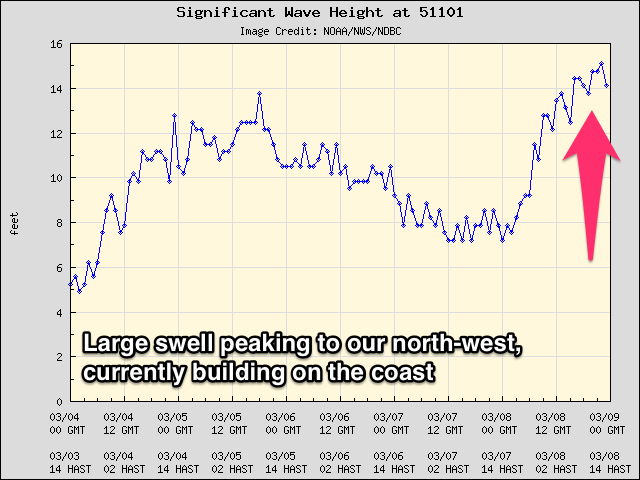 We should see sets reaching an easy 10-12ft by this afternoon/evening, peaking overnight and easing from a similar size tomorrow morning.
The readings on the offshore buoys to our far north-west are really strong, so confidence is high on the size due across the North Shore.
Friday should still reveal 6ft sets if not for the odd bigger one at dawn, fading into the weekend.
Today's N/NE winds will swing more NE later today, with great E/NE trades tomorrow and Friday, light from the S'th over the weekend.
Monday's small swell has been upgraded a little with the weak front due to generate it now being a touch stronger. We'll see a good slow moving fetch of strong to gale-force W/NW winds produced through our north-west swell window, with the swell arriving overnight and peaking Monday to a consistent 6ft with the possibility for 8ft sets.
Light variable winds are due all day, with the swell easing off all week, with nothing of significance to replace it.
Longer term some long-range and inconsistent NW groundswell is due the following week, but more on this Tuesday.
North Shore Forecast Graph
North Shore WAMs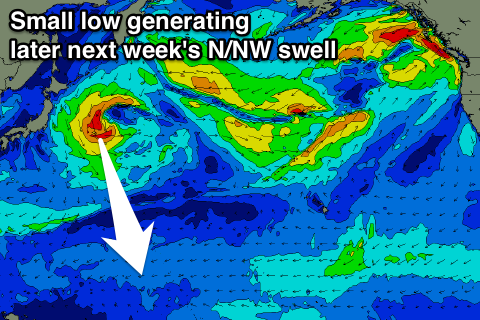 Micronesia: The surf is easing out of the N'th and E/NE today and we'll continue to see the size dropping through the coming days (2ft north facing breaks tomorrow) as E/NE trades slowly relax, tending more variable from mid-next week.
A slight increase in N/NW swell may be seen Monday but only to 2-3ft max, while our better N/NW groundswell for Thursday is still on track.
This will be produced by a relatively weak low spawning off Japan over the weekend, a touch weaker than forecast Tuesday.
Still, we should see fun waves across north facing breaks, building to 3ft+ later Wednesday, peaking Thursday morning around 4ft and then tailing off Friday.
Longer term we may see another fun sized N/NW groundswell from another low off Japan early the following week, but check back Tuesday for more on this.
Palikir Pass Forecast Graph
Palikir Pass WAMs
Papua New Guinea: It's been a fun few days of N/NE groundswell but this will continue to ease through tomorrow, back from an inconsistent 3ft+, smaller Saturday from 2ft to maybe 3ft early.
For the rest of the period there isn't much on the cards with small fading levels of E/NE trade-swell to 2ft max at swell magnets. This is due to the trades vanishing through our swell window into the weekend, slowly picking back up again later next week.
The N'ly groundswell due later next week should peak Friday across our region, with 2ft+ sets under light W/NW winds.
Longer term some better N'ly groundswell might be seen the middle of the following week, but more on this Tuesday.