Easing surf ahead of a good N'ly groundswell event for Micronesia
Hawaii North Shore, Micronesia and PNG forecast by Craig Brokensha (issued Tuesday 28th February)
Best Days: Selected spots on the North Shore next Sunday and Monday, Micronesia later Sundat onwards, PNG most of the period
This week and next (Mar 1 – Mar 10)
Hawaii: The surf has been on a slow easing trend the last couple of days with clean easing waves this morning to 4-6ft.
We'll see the swell continue to tail away this evening with small leftover 2-3ft sets tomorrow morning, similar Wednesday with a small reinforcing background swell.
The surf is then due to really bottom out into the the end of the week with tiny waves Friday and Saturday.
This lack of activity is due to a relatively benign Western Pacific Ocean the last week or so, but this will be broken later Saturday and more so Sunday.
A weak low off Japan will meander west over the coming days before deepening significantly in our western swell window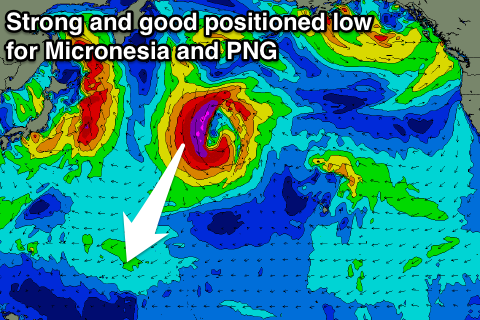 A broadening and strengthening fetch of severe-gale to storm-force N/NW winds will be aimed on the edge of our western swell window, more ideally aimed for Micronesia and Papua New Guinea.
We'll still see a large long-period W/NW groundswell generated for the North Shore, arriving later Saturday and peaking Sunday morning to 10-12ft or so at breaks that like west swells.
Winds are a little funky, with no trades due, instead light and variable from the south-west if anything.
The easing trend through Monday and Tuesday will be slowed as the low slowly weakens but moves closer towards us, bringing with it freshening S'ly tending S/SW winds which isn't ideal.
Longer term a secondary low firing up to our north-west may generate a moderate to large NW groundswell for Thursday next week as E/NE trades kick in, followed by funky N'ly groundswell off Alaska. But more on this Thursday.
North Shore Forecast Graph
North Shore WAMs
Micronesia: There's not much in the tank with a tiny N'ly swell and easing E/NE trade-swell across the region today.
We'll continue to see the trade-swell easing over the coming days from 3-5ft at east facing breaks tomorrow, a touch smaller Thursday through Saturday and smaller again from Sunday.
Unfortunately gusty E/NE winds will render these breaks unsurfable.
Of much greater importance is the low forming in Hawaii's western swell window, and in our northern swell window.
This low will generate a large N/NE groundswell for us, coming in around 6-8ft at its peak, which looks to be Monday/Tuesday next week.
The swell will then slowly ease through the rest of the week with favourable moderate to fresh E/NE trades. Lets have a closer look at this low on Thursday though.
Palikir Pass Forecast Graph
Palikir Pass WAMs
Papua New Guinea: Fun amounts of NE trade-swell are breaking across exposed breaks today, and we'll see this slowly ease from tomorrow, dropping from 3-4ft during the morning, further into the end of the week and weekend.
The large N/NE groundswell impacting Micronesia early next week will arrive through Tuesday and likely peak Wednesday out of the NE in the 4-6ft range. Winds look favourable with variable E/SE breezes, but we'll have a closer look at this Thursday.