Fun swells over the coming days ahead of a slow period
Hawaii North Shore, Micronesia and PNG forecast ​​​​​by Craig Brokensha (issued Thursday 23rd February)
Best Days: North Shore Thursday onwards until Monday, Micronesia Friday through Sunday, PNG every day
This week and next (Feb 24 – Mar 3)
Hawaii: Tiny surf this morning, but a new NW groundswell is on its way, impacting the 51101 buoy this morning and we should see a spike in size before dark.
This swell is expected to peak tomorrow morning to 6-8ft across the North Shore, easing later in the day and further into Friday morning.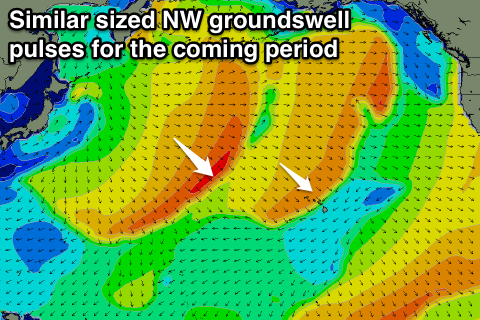 Our secondary less consistent NW groundswell is due to show later Friday but a peak is expected on Saturday morning to 6ft to occasionally 8ft, easing slowly through Sunday from the 6ft range. The longevity of this swell will be a bit longer than normal swell cycles due to the storm generating it continuing to produce a good fetch of W/NW gales south-east of the Kamchatka Peninsula through today.
A more pronounced drop in swell is due from Monday, becoming small into Tuesday.
Winds over the coming period are generally good with fresh and gusty E/NE trades tomorrow, a touch more NE Friday but then back to the E Saturday through early next week.
As touched on last update there's nothing significant due through next week, with a small bump in NW swell Wednesday but to 3-4ft max, fading Thursday and Friday.
Next weekend a moderate sized NW swell is on the cards from a small and distant front. Beyond this the outlook remains quiet, but more on this Tuesday.
North Shore Forecast Graph
North Shore WAMs
Micronesia: Today a fun N/NW groundswell is breaking across our north facing reefs, and we should see this swell holding tomorrow morning (Friday), before a new bigger swell arrives later in the day.
This should kick to 4-5ft+ by dark, with a peak Saturday morning to 4-6ft ahead of a slow easing trend, down from 3-5ft Sunday morning.
From here there's nothing major on the cards at all for north facing beaches, but fresh to strong E/NE trades will kick up some new E/NE trade-swell from tomorrow, peaking through Sunday and Monday to 4-5ft+ at east facing breaks.
A very slow easing trend is due through next week, more noticeable from Friday as the broad fetch of E/NE trades to our north-east weaken.
Palikir Pass Forecast Graph
Palikir Pass WAMs
Papua New Guinea: Fun amounts of NE trade-swell are breaking across the coast, with this due to ease back tomorrow and further Saturday but not below 3ft. Some new NE energy will build through Sunday, back above 3ft, holding through Monday ahead of the best pulse Tuesday more to 3-5ft, easing back slowly from Wednesday.
The N'ly groundswell pulses should fill in later tomorrow and Saturday afternoon respectively, biggest Sunday.
The pulse later today, peaking tomorrow is only due to be around an inconsistent 2ft or so, with a better increase later Saturday to 3ft, peaking Sunday 3ft+. A slow drop in size is then due Monday and further Tuesday.
Winds will be good and variable over the coming period creating favourable conditions.