Fun swells for the end of the week and weekend
Hawaii North Shore, Micronesia and PNG forecast by Craig Brokensha (issued Tuesday 21st February)
Best Days: North Shore Thursday onwards until Monday, Micronesia from later Wednesday through Sunday, PNG every day
This week and next (Feb 16 - 24)
Hawaii: We've got a solid N/NW swell currently easing across the North Shore with gusty E/NE trades.
This swell, produced by a low pressure system very close in proximity to us, will ease off steadily tomorrow from the 3-5ft range across magnets, tiny into Wednesday morning as gusty E/NE trades persist.
The NW groundswell due into Thursday is still on track, produced by a strong but patchy fetch of strong to gale-force W/NW winds through our north-western swell window south-east of the Kamchatka Peninsula.
Due to the unconsolidated nature of the fetch and storm, we're only due to see 6-8ft surf on Thursday morning as the swell peaks, with it due to start building later Wednesday.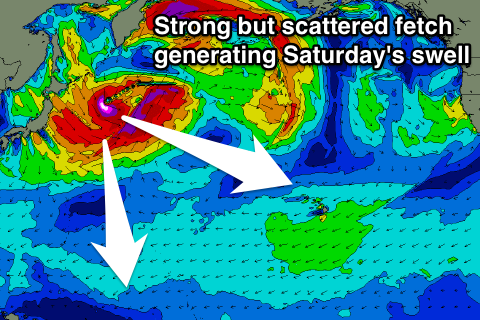 The swell will ease later in the day, further into Friday morning, while later in the day a new long-period NW groundswell is expected.
This swell, which was expected to be a little larger than Thursday's is now looking to come around a similar size, owing to the storm generating it being a little stronger but further away and also patchy in nature.
The North Shore should see inconsistent 6ft to occasionally 8ft sets as it peaks Saturday morning, easing of slightly later and further from the 6ft range Sunday.
From here through next week there's nothing significant at all due on the cards for the North Shore besides a possible moderate sized NW swell Sunday/Monday the 5th/6th of March. More on this Thursday.
North Shore Forecast Graph
North Shore WAMs
Micronesia: Small amounts of NE trade-swell on the coast today, but into tomorrow afternoon/evening some new N/NW groundswell is due to fill in, peaking Thursday.
North facing breaks should see inconsistent 3-4ft sets Thursday, easing slowly Friday.
The secondary N/NW groundswell which should be a little bigger due to it being generated further south and west, more in our swell window is expected to kick later Friday to 4-5ft+, peaking Saturday morning to 4-6ft before easing off slowly through Sunday and Monday.
Fresh and gusty E/NE trades are due through this period, strengthening from Sunday kicking up some new E/NE trade-swell across open breaks to the east, but conditions here will be poor.
Beyond this trade-swell will continue with no significant N/NW groundswell on the cards.
Palikir Pass Forecast Graph
Palikir Pass WAMs
Papua New Guinea: We're looking at mostly small but fun amounts of easing NE trade-swell across exposed breaks in PNG, 3-4ft tomorrow and Thursday morning, smaller through Friday and Saturday.
A very inconsistent and small hint of N'ly groundswell is expected later Thursday and Friday to 2ft or so at north magnets, smaller than the trade-swell, while the weekend should see the stronger pulse building Saturday to 2-3ft late, peaking Sunday around 3ft.
The N'ly groundswell should start easing later Monday but fun levels of NE trade-swell will persist around 3ft across north-east facing breaks all of next week.
Variable winds are due through the entire period, with clean conditions each morning ahead of weak sea breezes.