XL swell mid-week, with another next week
Hawaii North Shore, Micronesia and PNG forecast by Craig Brokensha (issued Tuesday 17th January)
Best Days: North Shore tomorrow, experienced surfers Wednesday, Thursday and Friday, ageain from Tuesday afternoon
This week and next (Jan 18 - 27)
Hawaii: The XL swell seen late last week and into the weekend has continued to ease into today. Sets were still around 5-6ft this morning, easing back through the day with SE breezes.
Into tomorrow, a small mid-period W/NW swell should slowly strengthen through the day, building to 4-6ft into the afternoon.
Of much greater importance is the XL W/NW groundswell due Wednesday and Thursday.
A broad and long-lived storm forming off Japan late last week and this weekend (delivering huge snow dumps) has been generating severe-gale W/NW winds aimed towards Hawaii while tracking towards us. The system is currently north-west of us while continuing to generate severe-gale W/NW winds and will push further east towards the US mid-week.
An XL W/NW groundswell is being created, with it due to build very rapidly Wednesday, peaking late/overnight and then easing slowly Thursday.
The North Shore big wave reefs should build to the 12-15ft range, peaking overnight and easing from a similar size Thursday morning.
A reinforcing W/NW groundswell is due through the day Friday as well, produced by a less than favourably aligned trailing low, generating W/SW gales through our swell window.
This should steady wave heights through Friday to 8ft or so, easing back Saturday and further Sunday.
E'ly trades are due over the coming period, strengthen significantly into Saturday and Sunday out of the NE tending E/NE, related to a strong ridge of high pressure moving in from the north-west.
This will project a strong fetch of NE winds towards us, producing a moderate sized NE swell for Sunday afternoon, easing and tending E/NE Monday.
Exposed breaks to the north-east should see easy 6ft+ sets before fading into early next week.
Longer term another XL W/NW tending NW groundswell is due mid-next week, produced by another significant low spawning off Japan, tracking east and then north-east through our swell window.

This low will generate severe-gale to storm-force winds, producing an XL swell for later Tuesday, reaching an easy 8ft by dark and peaking Wednesday around 12ft to possibly 15ft.
NE winds might cause a few issues, but we'll review this on Thursday.
North Shore Forecast Graph
North Shore WAMs
Micronesia: Our recent N/NW groundswell over the weekend was just a precursor to a much larger event later today and more so tomorrow
The swell is the same swell due to hit Hawaii, with a peak tomorrow morning expected to 8ft if not a touch bigger across exposed breaks, easing through the day and down further from 5-6ft Thursday morning.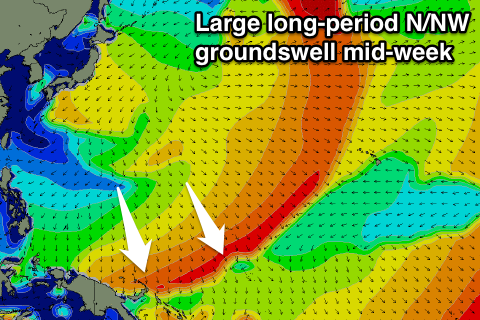 The reinforcing pulse is also due into Friday, with a fetch of string to gale-force W/NW winds spawning off Japan kicking the swell back to 4-6ft through the day, easing off into the weekend again.
Our next pulse of N/NW groundswell is also due mid-next week, generated by the strong low spawning off Japan.
The swell from this again looks to build to 5-6ft Tuesday afternoon, easing back from 4-5ft+ Wednesday but possibly followed by some smaller reinforcing increases.
Also in the mix over the coming period should be some new E/NE trade-swell, building from Wednesday afternoon and reaching 4-5ft across east facing spots into Friday, easing off very slowly from Sunday.
As a result of the trade-swell E/NE trades will strengthen from tomorrow and persist through the whole period.
Palikir Pass Forecast Graph
Palikir Pass WAMs
Papua New Guinea: We're seeing the weekend's fun N'ly groundswell ease off, but into later Wednesday and more so Thursday morning the stronger swell should fill in.
Exposed breaks are due to reach 3ft+ later Wednesday and peak Thursday morning to 3-5ft, easing a touch into the afternoon but steadying Friday ahead of secondary pulses over the weekend to a similar size.
The NE trade-swell should fill in through the weekend as well, peaking Saturday afternoon and Sunday to 3-4ft, before easing off slowly into next week.
Mid-week the next pulse of inconsistent N/NW groundswell is due and this looks to come in around 3ft or so, persisting Thursday and Friday before tailing off into the end of the week.
Light variable winds are due over the coming, period, light offshore each morning ahead of weak sea breezes.