XL swell for Hawaii and large swells for Micronesia
Hawaii North Shore forecast by Craig Brokensha (issued Tuesday 10th January)
Best Days: North Shore from Thursday, Micronesia and PNG most days
This week and next (Jan 11 - 20)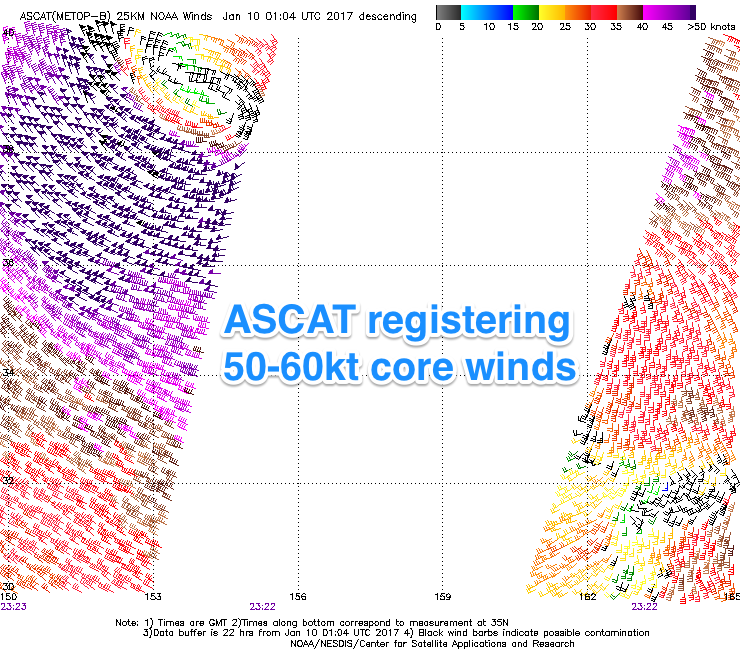 Hawaii: Over the weekend some moderate sized N/NE swell was seen across the coast but this is now easing and will bottom out early tomorrow morning.
Our new pulse of N/NE groundswell for tomorrow afternoon and Wednesday has been downgraded a little, and we're only now due to see 4-5ft sets across north facing breaks, while a background mid-period W/NW swell looks to come in around 3-4ft.
Into Thursday a slightly bigger NW swell is due as the N/NE swell eases, generated yesterday and today by a small tight low south of the Aleutian Islands.
This swell is expected to come in around 5-6ft+ across the North Shore Thursday morning, easing into the afternoon and further Friday morning.
Now, last week the models were shifting around regarding the intensity and structure of a low spawning off Japan, but the system has now formed and we're now looking at a very large groundswell event again.
Currently a fetch of severe-gale to storm-force W/NW winds are forming around an intense low directly east of Japan and we'll see core wind speeds reaching 60kt+ (satellite confirmation of 60kt winds have just come through to the right).
The low will take a slightly weird and elongated structure as it projects closer to Hawaii, but we'll see a fetch of severe-gale W/NW winds track in a 'captured fetch' like motion, resulting in the generation of a large and powerful NW groundswell for Friday and Saturday.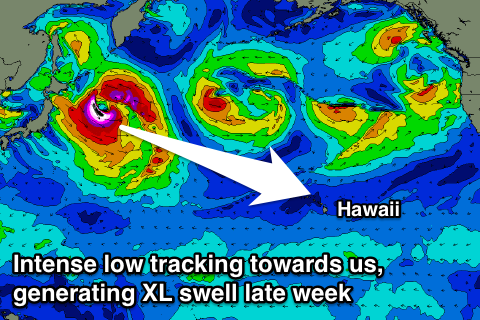 The swell should arrive through the morning and build rapidly through the day, reaching an XL 12-15ft across the North Shore into the evening, peaking overnight and easing steadily from a similar size Saturday morning, smaller into Sunday morning.
Later in the day Sunday a new close-range but long-period NW groundswell is expected, produced by a tight and intense low firing up just north-west of us. With wind speeds within the fetch forecast to reach severe-gale to storm-force, we'll see another large kick in size, reaching 6-8ft by dark Sunday and then easing from a similar size Monday morning, further into the middle of next week.
Winds over the coming week and a bit will be weak out of the E/SE tomorrow with light offshore SE'ly breezes Wednesday and Thursday before the trades start to kick in again from the weekend.
Longer term a broad low pressure gyre stalling east of Japan will produce moderate to possibly large pulses of W/NW groundswell for later week and into the following weekend, but more on this Thursday.
North Shore Forecast Graph
North Shore WAMs
Micronesia: Our current N/NW groundswell event should persist through the coming days in the 3-5ft range tomorrow, a touch smaller into Thursday.
The intense low currently off Japan should generate a good pulse of long-period N/NW groundswell for later this week and weekend.
The low will form just a touch too east to generate consistent large surf, but we should see sets reaching 4-5ft by dark Friday and peaking Saturday morning to 4-6ft.
Fun levels of N/NW swell should continue around 3-4ft+ from Sunday afternoon through Tuesday as relatively weak W/NW winds persist off Honshu (Japan's south island) through the end of this week and into the weekend.
A larger N/NW groundswell is shaping up for the middle of the week though, from the broad low pressure gyre sitting east of Japan from Sunday through early next week.
A better aligned fetch of W/NW gales in our northern swell window should generate a large powerful N/NW groundswell for later Tuesday and Wednesday morning, which at this stage looks to come in around 8ft or so on the sets.
Into the end of the week a slightly smaller but still large reinforcing N/NW groundswell is on the cards, but more on this Thursday.
E'ly trades are due through the coming period, strengthening from abut mid-next week when the large N/NW groundswell fills in.
Palikir Pass Forecast Graph
Palikir Pass WAMs
Papua New Guinea: Fun levels of inconsistent N'ly groundswell should continue across the coast this week before the better N'ly groundswell for the weekend builds to an inconsistent 3ft+ on the sets Saturday evening, easing back slowly from Monday.
The larger swell due across Micronesia mid week should arrive Wednesday afternoon reaching 3-5ft across north facing breaks, with 4-5ft surf Thursday morning, easing a touch into the afternoon and Friday. Reinforcing pulses are also on the cards, but check back here Thursday for more details.