Funky N/NE swell for Hawaii ahead of a better NW energy late next week
Hawaii North Shore forecast by Craig Brokensha (issued Thursday 5th January)
Best Days: North Shore Sunday, Wednesday onwards next week, Micronesia with each N'ly swell pulse, similar for PNG
This week and next (Jan 5 - 13)
Hawaii: Our moderate sized N/NW swell due today has come in on forecast with sets to 6ft across exposed breaks with morning offshores and afternoon NE breezes.
This swell will ease back through tomorrow from 3-4ft+ with less than ideal N/NE winds, persisting through until Sunday with E'ly trades should kick back in again.
Our N/NE swell due through Friday and Saturday has been downgraded a little with the stationary fetch of E/NE gales off the US coast not being overly well positioned in our swell window.
We should see a small increase in N/NE swell through Friday but only to about 4-5ft at exposed breaks, holding Saturday and Sunday before easing off into Monday.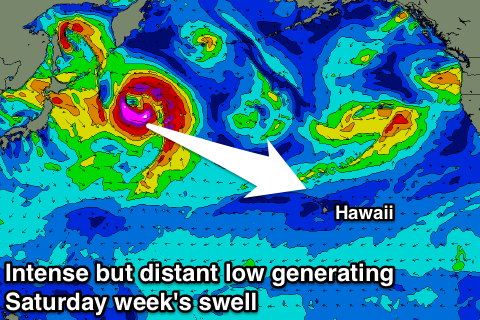 The secondary larger pulse of N/NE groundswell for mid next week is still on the cards, with a front spawning off Alaska south into the Pacific Ocean due to aim a good fetch of N'ly gales through our southern swell window.
The swell should arrive later Tuesday, peaking Wednesday to a good 6ft+ across the North Shore, easing later in day and further through Thursday and Friday.
Winds on Monday are due to be variable, with a strengthening NE'ly Tuesday before better E'ly trades kick in from Wednesday and persist into the weekend.
The larger swell mentioned for next weekend in our last update has changed a little due to the structure of the low forming off Japan moving around.
First a distant and not overly impressive system anchored off the Kamchatka Peninsula will produce an inconsistent NW groundswell Thursday to 3-5ft, easing into Friday morning.
Later Friday and into Saturday a longer-period and bigger W/NW swell is due, produced by a tight and intense low forming east-southeast of Japan, generating severe-gale to storm-force winds while tracking unfavourable towards the Aleutian Islands.
The swell from this low will be inconsistent but should come in around 6ft to occasionally 8ft at magnets on the North Shore.
The low will be absorbed back into a broader low sitting over Russia and Japan, with a weaker but expansive fetch of severe-gale W/NW winds aimed towards Hawaii.
Another inconsistent NW groundswell is due off this development, arriving Sunday and building back to 6-8ft across the North Shore. Our models are combining these two swells and with this it's over-forecasting the size on Sunday/Monday.
Longer term the positive activity is due to continue, with another large swell for later the week of the 16th, but more on this Tuesday.
North Shore Forecast Graph
North Shore WAMs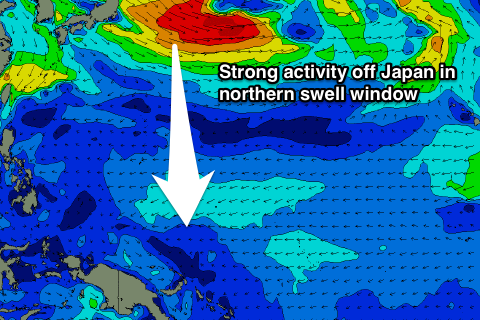 Micronesia: Easing surf out of the N/NW has been seen the last couple of days, and this will continue tomorrow and into Saturday.
The N/NW groundswell for later in the day and Sunday hasn't changed and we should see 3-4ft sets across exposed breaks, with a secondary pulse for Monday afternoon to 5ft on the sets before easing from Tuesday.
The N/NW groundswell for the following weekend has changed a little, with the first pulse for Saturday to 4-5ft or so, followed by a secondary increase Sunday afternoon with 6ft sets on the cards.
Slightly larger pulses are then due the rest of the week and with favourable E/NE trades, creating an excellent run of swell.
Palikir Pass Forecast Graph
Palikir Pass WAMs
Papua New Guinea: Small surf will continue over the coming days before some inconsistent N'ly swell fills in Tuesday and peaks around 3ft across exposed breaks, smaller into Wednesday.
The stronger N'ly groundswell pulses are due to arrive Sunday week, building to an inconsistent 3ft by dark, holding Monday, with some slightly stronger pulses next week more to 3-4ft or so but very inconsistent.
Conditions should be favourable with variable winds for the most part, N'ly Friday and Saturday next week and then possibly W/NW the following week with the swell. Lets hope this changes in the next update.