Funky N/NE swells continue ahead of a large groundswell event
Hawaii North Shore forecast by Craig Brokensha (issued Tuesday 3rd January)
Best Days: North Shore Wednesday morning, Sunday morning, Tuesday onwards next week, Micronesia tomorrow, Sunday onwards (PNG early next seek onwards)
This week and next (Jan 3 - 13)
Hawaii: A new N/NE swell filled in yesterday but NE winds created bumpy conditions, persisting into this morning as the N/NE swell eased mixed in with a small NW groundswell.
A low point in swell activity is due tomorrow, but a new mid-period N/NW swell is due Wednesday, produced by a small low that's currently to our north.
Moderate amounts of N/NW swell are due off this low, peaking around 6ft across exposed breaks Wednesday before easing Thursday. A light E/NE trade is expected Wednesday morning ahead of NE breezes into the afternoon, persisting from the N/NE Thursday through Saturday.
This will create bumpy conditions as a new N/NE groundswell fills in, generated by a stationary fetch of E/NE gales north-east of us over the coming week, easing into the weekend. Only a temporary weakening is expected before a low stalling off Alaska projects an elongated fetch of N'ly gales down towards us, generating an additional N/NE groundswell for Tuesday and Wednesday next week.
The first swell for this weekend should build Friday, reaching 6ft across exposed breaks to the north-east, holding Saturday and then easing Saturday. The secondary pulse will be less consistent but stronger, reaching around 5-6ft by later Tuesday before peaking Wednesday morning around 5-6ft+.
Winds will revert back to E/NE trades on Sunday before more variable breezes kick in from Monday through Thursday.
Now, longer term, we're finally set to see a significant swell developing mid-January as a vigorous and multi-centred low spawns off Japan, projecting a sustained fetch of severe-gale to storm-force W/NW winds through our western swell window. We'll look at this system closer on Thursday.
North Shore Forecast Graph
North Shore WAMs
Micronesia: The last few days we've seen some good N/NW groundswell across the region, and we'll continue to see fun amounts of swell through the period head of a couple of stronger spikes early next week and large swell the following weekend.
Small mid-period energy is due tomorrow out of the N/NW to 3ft+ across exposed breaks, easing into the end of the week.
A low point in activity is due Saturday morning, with some better N/NW groundswell due to arrive later in the day, holding Sunday ahead of a larger increase Monday.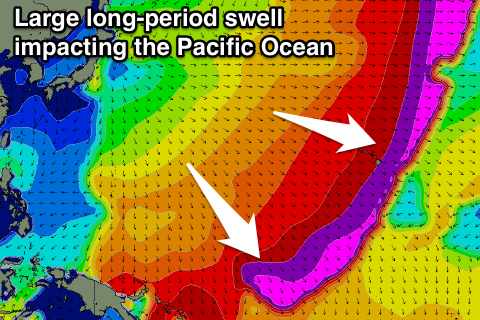 These swells will be produced by a low spawning off Japan, directing a fetch of strong to gale-force N/NW winds towards us, retracting but stalling off the Kamchatka Peninsula through the weekend.
Sunday's increase should come in around 3ft to possibly 4ft, while the larger increase Monday looks to be more in the 5ft range, easing back slowly Tuesday and Wednesday
A less consistent reinforcing N/NW groundswell pulse is due late week, but of much greater significance is the swell produced off the vigorous low spawning off Japan.
A large, powerful N/NW groundswell is due off this system, with a couple of phases and a good longevity across the region. At its peak we're probably looking at 8-10ft surf, but we'll have to have another look at this Thursday.
Over the coming period fresh E/NE trades are expected, strengthening a little through next week.

Palikir Pass Forecast Graph
Palikir Pass WAMs
Papua New Guinea: A small mix of E/NE trade-swell and inconsistent N'ly swell will continue around 2ft+ or so at magnets most of this week, a little smaller from Friday and into the weekend.
The N'ly swell impacting Micronesia over the weekend should arrive later Monday, peaking Tuesday to an inconsistent 3ft, easing off very slowly into the end of the week as small levels of E/NE trade-swell persists.
The larger groundswell on the cards for the following weekend would arrive Sunday in our region, peaking Monday, likely around 4-5ft or so, but we'll review this on Thursday.