Good NW groundswell mid-week, larger pulse Sunday afternoon
Hawaii North Shore forecast by Craig Brokensha (issued Tuesday 20th December)
Best Days: Every day over the coming period Hawaii and PNG
This week and next (Dec 16 - 23)
Hawaii: A new inconsistent NW groundswell filled in yesterday afternoon and is holding well into today with improving conditions and 4-6ft sets.
We should see the swell continue to ease into this afternoon, bottoming out early tomorrow morning.
Into the afternoon a new long-range but strong N/NW groundswell is expected, produced again in our far swell window around the Aleutian Islands.
A fetch of severe-gale to storm-force W/NW winds were aimed not ideally through our swell window, but the strength of the winds have still resulted in a moderate to large NW groundswell being generated.
The North Shore should build to 6ft on the sets later tomorrow, peaking Wednesday to 6-8ft if not for the odd bigger bomb. Fresh and gusty E/NE trades should create clean conditions for the coming days and weekend.
Thursday morning is likely to start easing from 6ft+, slowed by a reinforcing NW groundswell on the backside of the low.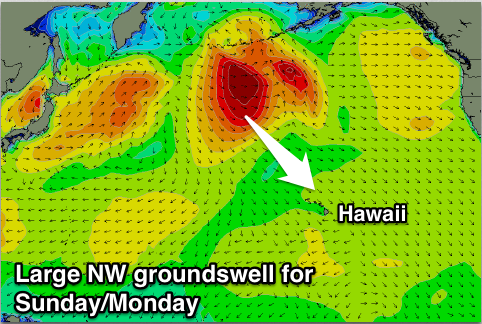 The swell should bottom out on Saturday evening and early Sunday ahead of a large new NW groundswell Sunday afternoon.
This will be produced by a vigorous low firing up between us and the Kamchatka Peninsula, with a fetch of severe-gale to storm-force NW winds exploding to our north-west and expanding in size.
The swell from this system is due to arrive Sunday morning and build to an easy 10ft by dark Sunday, easing from the 8ft range Monday morning, smaller into Tuesday.
Stronger E/NE trades may create a few issues at times, but the marquee breaks should be pumping.
A smaller reinforcing NW groundswell is on the cards for mid-next week, but beyond this there's nothing significant on the cards into the New Year. More on this Thursday
North Shore Forecast Graph
North Shore WAMs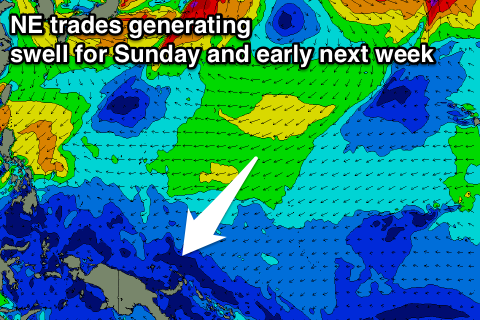 Micronesia: Our current solid E/NE trade-swell event should persist across exposed spots through the rest of this week to 4-5ft+ but into the weekend some more northerly angled swell will arrive.

This should be created as a new developing fetch of NE trades to our north drifts east and more into Micronesia's swell window later this week and weekend.
Later Saturday and more so Sunday should reveal the NE signal, coming in around 4-5ft+ again, holding Monday before easing off slowly into next week.
Strong trades will persist through the coming period, limiting surfing options, only easing during the middle of next week.
Longer term there's not much on the cards besides small levels of N'ly and E/NE swell, but more on this in the next update.

Palikir Pass Forecast Graph
Palikir Pass WAMs
Papua New Guinea: Currently our good pulse of NE trade-swell seen the last couple of days is easing slowly and will drop back to 3-4ft tomorrow.
Into Thursday and Friday a slight lift in size back to 3-5ft is expected from a new pulse of trade-swell, easing back again Saturday.
W'ly winds are due to ease off into tomorrow and be variable from Thursday and remaining so through next week.
The NE pulse due across Micronesia Sunday should arrive here later in the day and peak Monday/Tuesday to a good 4-5ft or so, easing off slowly from Wednesday.