Small to moderate swells to continue until next weekend
Hawaii North Shore forecast by Craig Brokensha (issued Thursday 24th November)
Best Days: North Shore Friday and Saturday, Monday through Wednesday, Saturday week, Micronesia from next weekend
This week and next (Nov 22 – Dec 2)
Hawaii: A fun kick in N/NW groundswell this morning across the North Shore, but the swell has since eased into this afternoon and will continue to drop from a small 3ft max on the sets tomorrow morning.
Our new pulse of inconsistent N/NW groundswell for Friday hasn't really changed, (generated by a distant strong storm near the Aleutians) with exposed breaks due to reach 5-6ft through the mid-late afternoon, with the odd bigger bomb likely on dark.
Easing surf is then due Saturday from 4-5ft+, small into Sunday.
Fresh to strong E/NE trades will persist through the end of the week and coming weekend, persisting most of next week.
Into early next week a new pulse of NW groundswell is due, but again to no major size.
This should be generated by a strong but very short-lived and northward tracking low firing up to our north-west.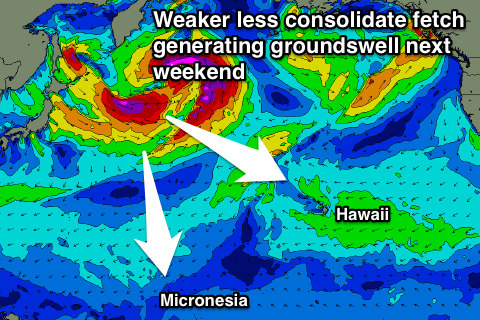 A burst of severe-gale to storm-force NW winds will be aimed through our swell window, generating a strong but moderate pulse of swell, building Monday afternoon to 3-4ft+ by dark, peaking around 4-5ft+ Tuesday morning and then fading quickly into Wednesday.
The large NW groundswell noted in the last update has changed a little.
A vigorous low that was forecast to develop off Japan is now due to be weaker and more broken up, with a smaller fetch of severe-gale W/NW winds developing south-east of the Kamchatka Peninsula before fading south of the Aleutian Islands.
With this only a moderate to large sized NW groundswell is expected, with inconsistent sets to 6ft to possibly 8ft due when it peaks Saturday, easing off through Sunday.
Another smaller reinforcing N/NW groundswell is due Monday from a weaker trailing fetch of NW winds, coming in around 4-6ft.
Winds should ease and tend more variable from Saturday, remaining so through most of next week.
Another moderate sized NW groundswell may be seen mid-late week, but more on this Tuesday.
North Shore Forecast Graph
North Shore WAMs
Micronesia: Our NE trade-swell event is still on track with easing surf into tomorrow before an upwards trend into the weekend, coming in at 3-4ft+ across exposed spots, easing off a touch through early next week.
We shouldn't see sets drop below 3ft, increasing a touch again later next week.
With the downgrade in the strength of the low off Japan, a downgrade in the N/NW groundswell due across our region will also follow.
The swell should arrive through Saturday week, building to 4-5ft across north facing breaks, easing off slowly Sunday from 3-5ft. Smaller surf is then due into the following week.
Fresh to strong E/NE trades are expected from tomorrow through next week, easing off a touch into the following week.
Palikir Pass Forecast Graph
Palikir Pass WAMs
Papua New Guinea: Small ebbs and pulses of NE trade-swell over the coming couple of weeks between 2ft to occasionally 3ft.
The N'ly groundswell looks limited in size, with an inconsistent increase likely Sunday week to 2-3ft across magnets, holding Monday and then easing Tuesday.
Variable winds from the W are due over the coming days, freshening from the W/SW mid-next week before easing off late. This will be related to a small tropical depression through in the region.