Average ahead of a pro-longed N'ly groundswell event
Hawaii North Shore forecast by Craig Brokensha (issued Tuesday 15th March)
Best Days: Friday onwards, but cleanest from Sunday
This week and next (Mar 15 - 25)
A large long-period N/NW groundswell built through yesterday ahead of a peak into the afternoon/evening, easing back steadily through today from the 4-6ft range.
We'll see the swell continue to ease into tomorrow with early variable winds, freshening from the NW through the day as a deepening and developing low to our north spawns off a front down into the islands.
A small increase in N'ly windswell is due from this front Wednesday with poor and gusty N/NE winds, leaving no decent surfing options.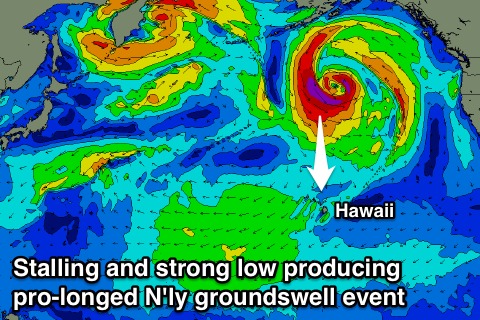 Of greater importance is the the developing low, with it due to stall and strengthen to our north (south of the eastern Aleutian Islands) with a fetch of severe-gale to storm-force N/NW winds being aimed through our northern swell window, weakening temporarily ahead of a secondary burst and slow southward trajection.
What this will result in is a pro-longed N'ly groundswell event ebbing and pulsing from later Friday through the weekend before easing back through early next week.
Before this on Thursday and Friday though some mid-period and weaker N'ly swell will build from the low as it starts to develop, building to a messy 6ft later in the day although with fresh to strong NE winds, peaking Friday morning to 6-8ft.
The stronger afternoon increase in N'ly groundswell should see larger 10ft+ sets into the evening, easing from a similar size Saturday morning.
The secondary intensification of the low will generate a slightly larger pulse of N'ly groundswell for Sunday, peaking to 10-12ft across the North Shore, before easing back from the 5-6ft range Monday morning.
Also in the mix on Sunday will be a lo​ng-period NW groundswell from a 'bombing low' firing up in our far swell window right off Japan, aiming a burst of storm-force to hurricane-force W/NW winds through our far north-western swell window.
While inconsistent the swell should arrive later Saturday to the 6ft+ range, peaking Sunday morning to 8ft.
Conditions will be less than ideal through Friday and Saturday as gusty NE winds continue, with better E/NE breezes Sunday with the stronger N'ly groundswell, easing Monday and tending variable into next week as the swell bottoms out.
Longer term there's nothing too significant on the cards at all, but we'll have a closer look at this in the next update.