Smaller surf with a messy XL NNW swell Monday, followed by monster XXL swell Thursday
Hawaii North Shore forecast by Craig Brokensha (issued Thursday 18th February)
Best Days: Thursday morning, Saturday, Tuesday for experienced surfers, Thursday for kamikazes
This week and next (Feb 19 - 26)
Easing levels of W/NW groundswell have been seen the last couple of days across the North Shore and we'll continue to see the swell drop through today and tomorrow, bottoming out Friday morning.
Fresh to strong E/NE trades should persist tomorrow before easing back Friday and further Saturday.
A small increase in background mid-period long-range energy is due through Saturday morning, offering 4-5ft sets across swell magnets on the North Shore, tailing off into Sunday as strengthening W'ly winds create poor conditions.
Sunday afternoon's expected kick in N/NW swells has been delayed a little and shifted more to Monday but along with a larger short-range increase in N/NW groundswell
An initial large pulse of inconsistent N/NW groundswell is due later Sunday, peaking Monday morning from a fetch of gale to sub-severe-gale W/NW tending NW winds projecting down from east of the Kamchatka Peninsula towards Hawaii.
Sets should reach 6ft+ by dark Sunday and peak Monday morning to the 12ft+ range. Of much greater importance is a secondary vigorous fetch of severe-gale N/NW winds projecting right down into the islands, over an already active sea state during Sunday evening and Monday morning.
A close-range consistent and XL swell should result, building to the 15-20ft range through the day, larger on the islands east of Oahu.
Unfortunately winds will remain poor due to the close proximity of the swell producing front with fresh and gusty N'ly tending N/NE winds.
Better E/NE trades are due Tuesday as the swell eases away rapidly from the 15ft range, smaller Wednesday with increasing N/NW winds.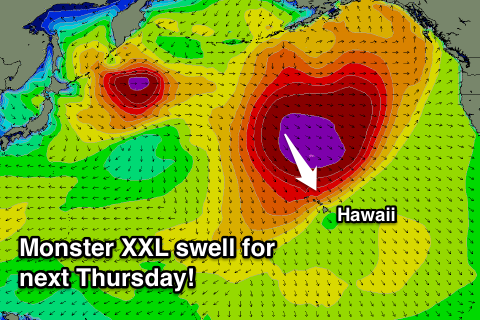 Now, looking into Thursday next week and we've got possibly one of the largest swells of the season due across the islands.
This will be produced by a relatively small in scope low pressure system spawning off Japan and deepening significantly south of the Aleutian Islands while broadening in scope.
What we'll see is a vast fetch of severe-gale to storm-force W/NW winds moving slowly south-east towards Hawaii before stretching out even further in length, stalling before one final push down into the islands.
Two closely spaced XXL swells are due to be created, possibly showing late Wednesday but peaking Thursday anywhere in the 25-30ft range across the North Shore, much bigger at offshore deep water reefs.
Winds are the only issue with fresh N/NE breezes associated with the vigorous front pushing into us, but we'll have another look at this on Tuesday.