Back to back XXL swells for next week
Hawaii North Shore forecast by Craig Brokensha (issued Thursday 21st January)
This week and next (Jan 22 - 29)
The surf on the North Shore eased back through yesterday and bottomed out early this morning. Since then, a very rapid increase in swell has been seen with the arrival of an XL event.
Today the Waimea buoy has rocketed up to 18ft (5.4m) at 18 seconds (right). This should result in an expected kick in size to 15-20ft across selected breaks across the North Shore with moderate N/NE winds.
The 51101 buoy has since eased, and this trend should be seen across the North Shore 10 hours later, with a drop in size due through this evening, further down through tomorrow from 12-15ft at dawn across selected breaks on the North Shore.
Winds should improve and swing around to the E/NE, persisting Friday as the swell continues to fade from 4-5ft early at swell magnets. The swell will bottom out into Saturday with variable winds and afternoon sea breezes.
As touched on last update, from Sunday we're due to see a sustained period of XL-XXL surf, climaxing through Wednesday and Thursday.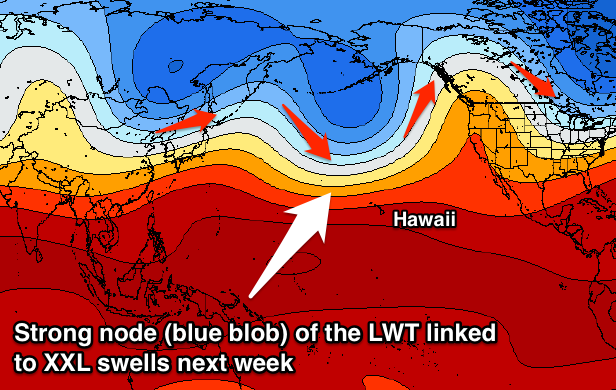 This will be related to a strong node (peak) of the Northern Hemisphere Long Wave Trough strengthening through the North Pacific Ocean over the coming week. The Long Wave Trough essentially steers and strengthens storms along the path and towards where it is focussed, which will be Hawaii (shown right).
Initially a broad and slow moving low pressure systems that's spawned off Japan will move east, with smaller embedded lows spinning anti-clockwise within the main structure.
A persistent fetch of severe-gale W/NW winds will be projected towards Hawaii as the system as a whole approaches the islands over the coming days, generating numerous pulses of XL surf from later Sunday through Tuesday.
Sunday's initial increase will be the least consistent due to it being generated the furthest away, with a slow increase to the 12-15ft range due later in the day.
A secondary larger NW groundswell is due through the evening, offering 15-18ft surf early Monday morning ahead of a the largest most consistent kick in NW groundswell through the middle of the day. This will be generated as one of the embedded fronts projects right down towards Hawaii, kicking the surf to the 20ft+ range into the afternoon.
A drop in size is then expected through Tuesday from 15-18ft or so.
Conditions on Sunday morning are due to be good, but as the new swell kicks, poor and fresh W/NW winds are due as the front pushes down close to Hawaii, with easing N/NE tending E/NE winds through Monday. Tuesday looks to see increasing Kona SW winds, as the storm linked to the next XXL swells muscles in.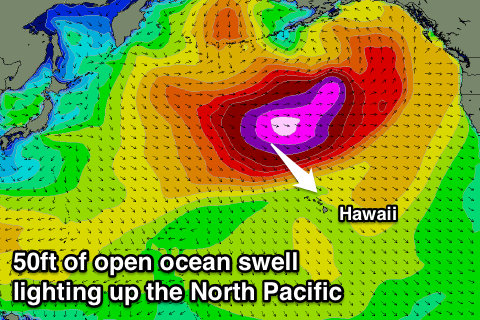 Wednesday/Thursday's swell is one to behold, have a quick run through the WAMs and watch the charts light up all kinds of purple and white!
This swell will be generated as the the Long Wave Trough reaches peak intensity, resulting in the creation of an all encompassing North Pacific storm with severe-gale to storm-force winds stretching over some 2,500km.
Open ocean swell heights are due to reach just under 50ft, with an XXL long-period swell produce for Hawaii, filling in Wednesday and reaching 25-30ft across the North Shore, with larger waves at offshore deep water reefs.
Conditions are questionable with fresh but easing SW winds, although we'll have another look at this on Tuesday.