Large swells ahead of XXL swell Monday
Hawaii North Shore forecast by Craig Brokensha (issued Thursday 31st December)
Best Days: Thursday morning, Saturday afternoon and Sunday morning experienced surfers, Monday watching from the safety of the shore
This week and next week (Jan 1 - 8)
The surf's bottoming out today with poor winds, but from tomorrow we'll see an extended run of large to XXL surf.
The timing of the pulses from tomorrow through Sunday have shifted a little, but in effect we'll see the surf ebbing and pulsing around the 10ft+ range, bigger into the weekend.
An initial strong frontal system pushing towards us the last couple of days has generated a large NW groundswell for tomorrow, with the North Shore due to come in around 10ft+ as it peaks.
Currently a flurry of secondary frontal activity is aiming fetches of gale to severe-gale W/NW winds towards us, with a final burst of severe-gale NW winds projecting ideally down towards Hawaii from a more northerly direction.
We should see another strong pulse of NW groundswell Friday, building from 8-10ft through the morning to 10-12ft on dark, easing back a touch from a similar size Saturday morning. The final N/NW groundswell pulse is due to peak Sunday morning to 12ft+, easing slightly later in the day.
Winds should be good tomorrow morning with light E/NE trades, deteriorating and swinging more N/NE through the day and persisting from the N/NE into Friday.
Saturday looks to start dicey with fresh to strong NE winds, improving and tending more E/NE through the day and persisting Sunday morning.
Now, heading into Monday the largest swell of the season so far is expected to push into the North Shore.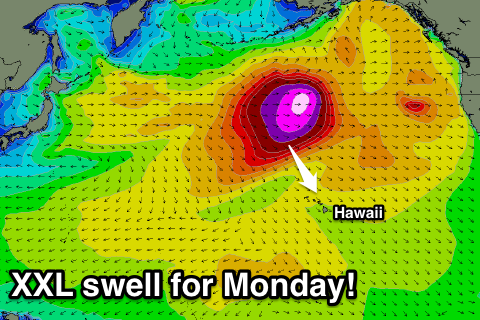 As touched on in Tuesday's forecast, a 'bombing low' is forecast to develop south of the Kamchatka Peninsula and push east across the North Pacific, maintaining strength while moving to a line north-northwest of Hawaii before slowly weakening while approaching the United States.
A bombing low is a weather system which drops over 24hPa in less than 24 hours and with this, we'll see a fetch of severe-gale to storm-force W/NW winds aimed through Hawaii's swell window for 24 hours, producing an XXL swell event for Monday.
The swell is due to arrive not far behind the long-period fore-runners early Monday, jumping to a very dangerous 20-25ft across the North Shore during the morning with bigger 30ft+ waves at deep water offshore reefs. A peak is expected through the middle of the day.
Winds are looking to be a bit of a problem with strengthen E/NE trades, persisting Tuesday as the swell drops steadily.
Longer term we're likely to see a secondary XL swell for the following weekend, but more on this Tuesday.