Easing swell into the end of the week, large NW groundswell next Tuesday/Wednesday
Hawaii North Shore forecast by Craig Brokensha (issued Thursday 10th December)
Best Days: Every day over the coming period
This week and next week (Dec 10 - 18)
A late and large kick in new W/NW and NW groundswell due yesterday was delayed a little and this is usually a result of the swell periods not being as large as forecast, which then flows on to the swell being a little under forecast, which is what was seen today. In saying that solid 10-12ft waves are breaking across the North Shore with offshore trades for the first competition day of the Billabong Pipe Masters.
The swell is due to ease a touch this evening, but a reinforcing NW groundswell is still on the cards for tomorrow morning, generated by a tight and strengthening embedded low in the overall storm track to our north.
This swell should keep 8-10ft+ sets hitting the North Shore tomorrow morning before easing back into the afternoon and further down from 6-8ft Friday morning.
Fresh and gusty E'ly trades should persist tomorrow, easing back a touch Friday while tending more E/SE, weaker into Saturday as the swell bottoms out and then more variable Sunday.
A minimal kick in NW swell is due Sunday morning but only to 3-4ft+ or so before easing Monday.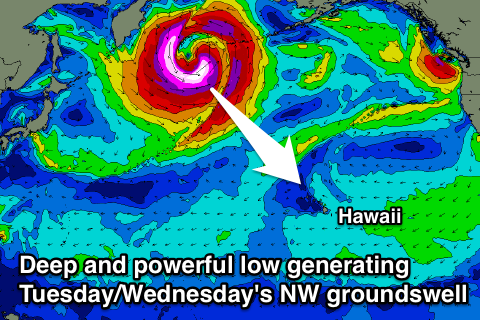 Of greater significance is the upgrade of the size and intensity of the long-range NW groundswell due Tuesday and Wednesday next week.
On Tuesday the models forecast the development of a vigorous but unfavourably tracking low off the Japanese coast, up across the Aleutian Islands, cutting the low and fetch in half.
Now the low is forecast to deepen significantly earlier, aiming a fetch of storm-force to possibly hurricane-force W/NW-NW winds through our swell window, generating a large long-period NW groundswell.
The fore-runners in the 25s range are due Monday evening, with the swell filling in rapidly Tuesday and building to 10-12ft+ through Tuesday afternoon, peaking overnight and then easing from a similar size Wednesday morning, fading more noticeably from 6-8ft or so Thursday morning.
Good and moderate to fresh E/NE trades will develop Tuesday, strengthen a touch Wednesday and then easing later Thursday again.
Longer term there's nothing too major on the cards, but check back here Tuesday for the next update.