Small swells from the south to south-east
Eastern Tasmania Surf Forecast by Craig Brokensha (issued Wednesday 14th July)
Best Days: South swell magnets tomorrow and Friday, Monday
Features of the Forecast (tl;dr)
Small S'ly swell for tomorrow, S/SE Fri with fresh N/NW winds
Weak SE windswell Sat and Sun with favourable winds
Fun SE swell filling in Mon with NW winds, easing Tue
Recap
The inconsistent E/SE groundswell pushed in nicely through yesterday morning across the state, with today easing in size but still fun this morning.
This week and next (Jul 15 - 23)
The E/SE groundswell from yesterday and this morning will be all but gone tomorrow, but a low that fired up in our swell window yesterday evening and today should produce some fun, small S tending S/SE swell tomorrow and Friday.
The low generate a good fetch of gales but moved at right angles to us, limiting the size potential. We should still see 2ft+ sets across the south magnets tomorrow and more so 2ft Friday along with favourable, fresh N/NW winds.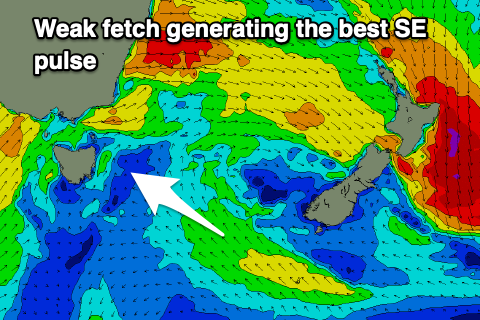 Into the weekend a small SE windswell to 1-2ft may be seen across open stretches, spreading off a weak fetch of E'ly winds developing south-east of us tomorrow evening, but the pulse of SE swell for early next week is better.
Winds on the weekend will be offshore Saturday morning, variable into the afternoon with W/SW winds all day Sunday.
Now, the SE swell will be generated by a small burst of SE winds being projected towards us on Saturday, with it arriving Monday and peaking into the afternoon. Only a small 2-3ft wave is due but with favourable NW winds, easing Tuesday.
Longer term we may see a strong cold outbreak bringing a fresh S'ly swell for mid-late week, but check back here Friday for more details.