Wednesday, 19 February 2020
Make the most of the coming days
UNLESS YOU LIVE AT THE BEACH, PLEASE DON'T TRAVEL TO SURF
COVID-19 is changing the way we think about surfing. Travelling to the surf now means you're putting an unnecessary strain on the resources of small regional communities. So, please stay home. If you live near the beach and want to surf, please maintain a healthy spacing in the lineup, don't hang in the carpark, and keep your surf sessions shorter to allow others the opportunity to get wet. Above all, stay happy, healthy and look out for one another.
Eastern Tasmania Surf Forecast by Craig Brokensha (issued Wednesday 19th February)
Best Days: Tomorrow, Friday morning
Recap
Our second round of large E/SE groundswell from ex-TC Uesi filled in yesterday, building and strengthening all day with favourable winds for protected spots, solid still this morning and to 5-6ft as S'ly winds again favoured protected spots.
This week and weekend (Feb 20 - 23)
Currently a deep and powerful low has formed off our coast, bringing strong to gale-force S-S/SE winds directly east of us, and adding some local S/SE swell to the mix of E/SE groundswell today.
The low will move slowly east-southeast this evening while weakening, resulting in a drop in SE and E/SE swells from 4-5ft or so along with fresh to strong S/SW-SW morning winds, S/SE-SE into the afternoon. So stick to those southern corners again.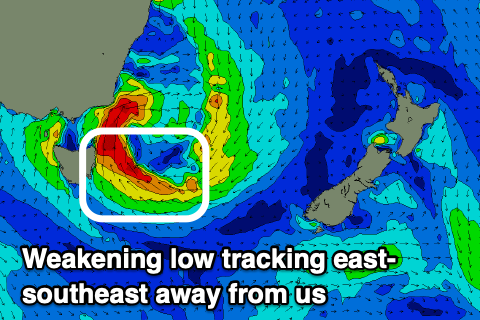 Come Friday we'll be seeing much smaller and fading 2ft to possibly 3ft sets, with the low that was due to generate a new S'ly groundswell now only expected to be much weaker and as a consequence not generate any real sizey new S'ly swell.
Winds should be nice and SW early, swinging SE into the afternoon and E'ly later.
This then spells the end of a great run of surf with nothing significant at all on the cards for next week.
Monday may see a small 1-2ft of N/NE windswell but other than that the Southern Ocean is expected to fire up mid-late next week, bringing swells for the South Arm but nothing for us. Therefore make the most of tomorrow!