Monday, 10 February 2020
Large swells out of the north-east
UNLESS YOU LIVE AT THE BEACH, PLEASE DON'T TRAVEL TO SURF
COVID-19 is changing the way we think about surfing. Travelling to the surf now means you're putting an unnecessary strain on the resources of small regional communities. So, please stay home. If you live near the beach and want to surf, please maintain a healthy spacing in the lineup, don't hang in the carpark, and keep your surf sessions shorter to allow others the opportunity to get wet. Above all, stay happy, healthy and look out for one another.
Eastern Tasmania Surf Forecast by Craig Brokensha (issued Monday 10th February)
Best Days: Southern corners experienced surfers tomorrow, Wednesday, Saturday and Sunday
Recap
Poor surf on Saturday ahead of building levels of E/NE-NE swell yesterday that's got even bigger today but with average conditions due to onshore winds. The swell should be building further today as an intense surface trough drifts slowly south down the southern NSW coast.
This weekend and next week (Feb 11 - 16)
Tomorrow's large NE groundswell has been upgraded, with an intense surface trough that's slowly slipping south currently aiming an off axis fetch of strong to gale-force E/NE-NE winds through our north-eastern swell window.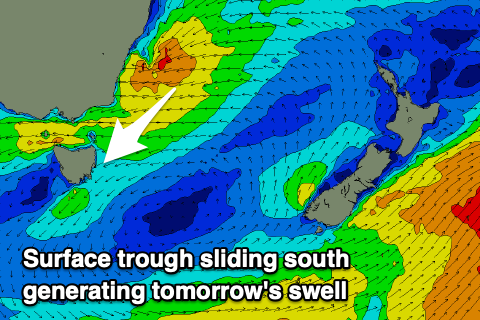 The trough will project down and into us overnight and tomorrow morning in a captured fetch like motion (winds moving with the swell it's producing), generating an oversized NE swell that now looks to reach an easy 8-10ft across north-east swell magnets, easing later on the day and then down further from 4-6ft Wednesday.
Winds look to swing offshore and out of the S/SW tomorrow morning as a local surface trough moves offshore, even possibly light W/SW ahead of weak sea breezes (S/SE across the southern half of the coast E/NE to the north). This should provide good quality options for experienced surfers.
Fresh S/SW tending S/SE winds will then favour southern corners Wednesday as the swell eases, poor Thursday with S/SE tending SE winds and smaller surf.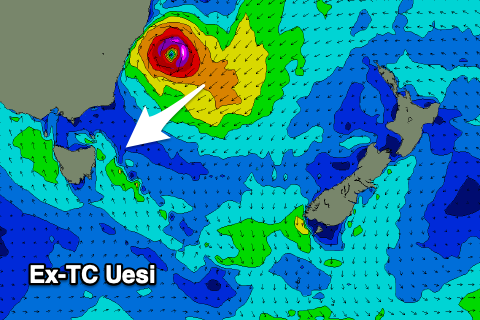 Friday will remain poor with onshore E'ly winds and a weak E'ly windswell to 2-3ft or so, with some new NE groundswell due to develop into the weekend.
This secondary source of NE groundswell will be generated by Tropical Cyclone Uesi which has formed in the Coral Sea north of New Caledonia.
Uesi is forecast to track slowly south over the coming days, generating a large swell for the East Coast late week, making an extra-tropical transition off the southern NSW coast while continuing south-southwest, directing a fetch of NE gales through our north-eastern swell window.
We're then expected to see the remnants drift south-east of us and re-intensify, producing a burst of gale to severe-gale E/SE winds in our eastern swell window on Sunday.
The models are still moving around regarding the timing and exact movement of ex-TC Uesi but we should see a large NE groundswell for Sunday, coming in around 6ft+ at this stage with the follow up SE swell for early next week.
Winds look favourable again for southern corners as a surface trough off the south-east of the state brings strengthening S/SE winds, more S/SW into Sunday. Check back here on Wednesday and Friday for a clearer idea on the swell timing, size and local winds.