Friday, 6 December 2019
Flukey south swells followed by north-east
UNLESS YOU LIVE AT THE BEACH, PLEASE DON'T TRAVEL TO SURF
COVID-19 is changing the way we think about surfing. Travelling to the surf now means you're putting an unnecessary strain on the resources of small regional communities. So, please stay home. If you live near the beach and want to surf, please maintain a healthy spacing in the lineup, don't hang in the carpark, and keep your surf sessions shorter to allow others the opportunity to get wet. Above all, stay happy, healthy and look out for one another.
Eastern Tasmania Surf Forecast by Craig Brokensha (issued Friday 6th December)
Best Days: South swell magnets tomorrow, Sunday, Monday morning, north-east swell magnets Tuesday morning
Recap
Minimal amounts of flukey S'ly swell yesterday and today, with a bit more size for the weekend.
This weekend and week (Sep 7 - 13)
A strong and slow moving low that's currently south of the state and out of our swell window will project a fetch of strong to near gale-force W/SW-SW winds just in our southern swell window this afternoon, shifting more zonal and less favourable into this evening.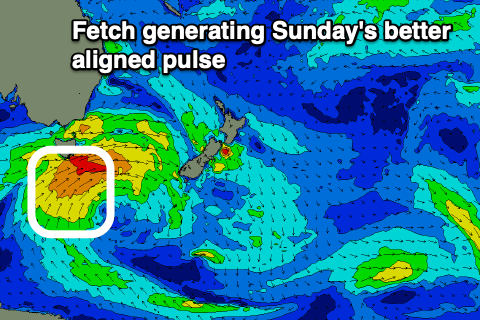 This will generate a very acute S'ly groundswell for tomorrow, coming in with a little more size compared to the last two days but only likely hitting 2ft to occasionally 3ft across the regional south swell magnets.
A better but weaker fetch of S/SW winds on the tail of the progression will produce a weaker but better aligned mid-period S'ly swell for Sunday. Sets to 3ft+ are likely on Sunday, easing slowly Monday from 2-3ft.
Winds early tomorrow will be favourable and NW, but swinging SW later morning and maybe variable into the afternoon. Sunday should then see a morning W/SW breeze, tending variable and then E/NE into the afternoon. N/NW tending strengthening N/NE winds will then favour the south swell magnets Monday while kicking up a building N/NE windswell.
The windswell looks to have a bit more strength to it compared to Wednesday with 2ft sets expected on Tuesday with a favourable SW tending SE breeze. We'll confirm this on Monday though. Longer term there's nothing significant on the cards so try and make the most of the coming S'ly swells. Have a great weekend!