Monday, 2 December 2019
S'ly swells building from late week
UNLESS YOU LIVE AT THE BEACH, PLEASE DON'T TRAVEL TO SURF
COVID-19 is changing the way we think about surfing. Travelling to the surf now means you're putting an unnecessary strain on the resources of small regional communities. So, please stay home. If you live near the beach and want to surf, please maintain a healthy spacing in the lineup, don't hang in the carpark, and keep your surf sessions shorter to allow others the opportunity to get wet. Above all, stay happy, healthy and look out for one another.
Eastern Tasmania Surf Forecast by Craig Brokensha (issued Monday 2nd December)
Best Days: Possibly Friday south swell magnets, early Saturday but more so Sunday and Monday south swell magnets
Recap
Nothing to surf over the weekend nor today.
This week and weekend (Dec 3 - 8)
Looking at the forecast graph it looks like there are a couple of decent southerly swells on the way, but there'll probably be no real surfable size until Friday and more so the weekend.
A stalling and multi-threaded low pressure system stalling under Tassie will project front after front across us, but all the activity will be too zonal to generate any southerly swell.
A burst of strong W/SW winds just within our southern swell window Wednesday afternoon and evening may produce a small pulse of S'ly swell for Friday, coming in at 2-3ft at true south swell magnets, tiny elsewhere. Winds look OK and NW tending W/SW, and then SE into the afternoon, favouring south swell magnets early.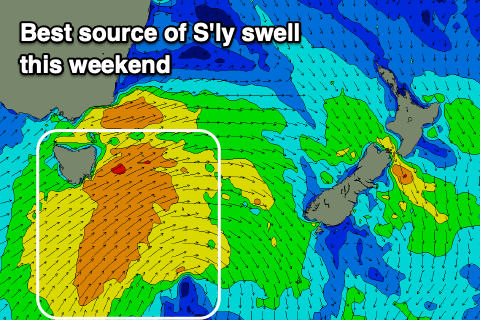 This is a flukey swell, with a more reliable S'ly swell due over the weekend as the whole progression moves slightly more east and slowly up past us on Saturday.
A building S'ly swell is expected on Saturday, reaching 3-4ft into the afternoon, but with W tending S/SE and then E winds, spoiling the new swell.
Sunday looks the pick with a W/NW offshore and of NE sea breezes and easing sets from 3ft across south swell magnets, a smaller 1-2ft on Monday.
Longer term we may see a few small pulses of S'ly swell, but more on this Wednesday.