Wednesday, 4 September 2019
Stormy increase in E/NE swell, followed by S swells next week
UNLESS YOU LIVE AT THE BEACH, PLEASE DON'T TRAVEL TO SURF
COVID-19 is changing the way we think about surfing. Travelling to the surf now means you're putting an unnecessary strain on the resources of small regional communities. So, please stay home. If you live near the beach and want to surf, please maintain a healthy spacing in the lineup, don't hang in the carpark, and keep your surf sessions shorter to allow others the opportunity to get wet. Above all, stay happy, healthy and look out for one another.
Eastern Tasmania Surf Forecast by Craig Brokensha (issued Wednesday 4th September)
Best Days: Thursday morning, Saturday protected spots, Sunday, Monday, Tuesday
Recap
Good building NE swell yesterday, holding in at an inconsistent but decent 3ft this morning but on the ease.
Today's Forecaster Notes are brought to you by Rip Curl
This week and weekend (Sep 3 - 8)
With our current NE swell on the ease, we've got one final and more consistent pulse of E/NE swell due tomorrow morning.
This was generated the last couple of days by a slight re-intensification of the low in the Tasman Sea, west of New Zealand.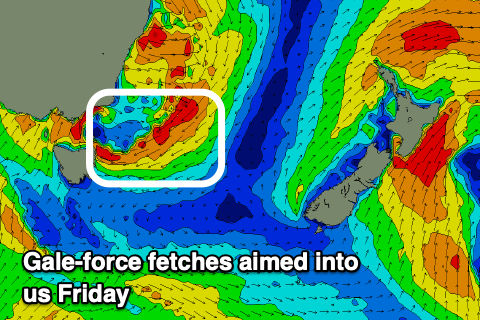 Fun 2-3ft waves are due across open beaches most of the day, easing later in the day. A morning W/SW offshore will swing NE into the afternoon, so get in before lunch.
Now, the dynamics around the mid-latitude low moving in and across us later week has changed, with our East Coast now expected to be subject to a good strengthening NE tending E/NE fetch Friday, reaching gale-force into the afternoon.
A large and stormy increase in E/NE swell will be seen, reaching at least 6ft into the afternoon but with terrible conditions.
The low will continue slowly east on Saturday, continuing to aim a fetch of gale-force E/SE winds in our eastern swell window along with strong S/SE winds. Open beaches look to come in around the 6ft range, best in protected spots before easing from 5-6ft Sunday as winds swing offshore from the NW.
The swell will ease steadily, smaller and fading Monday, and a strong polar front pushing up and past us Sunday evening will generate a fresh pulse of S'ly swell that might become large into the afternoon. The models still diverge on the strength and positioning so check back here Friday for the latest.