The run of small swell continues
Eastern Tasmania Surf Forecast by Guy Dixon (issued Monday 12th October)
Best Days: Tuesday, Friday and Sunday
Recap:
As a whole, the weekend was pretty small and lacklustre across eastern Tasmania. Saturday saw the most energy with occasional sets trying to reach the 2ft mark under northerly breezes. A lot of the energy had dissipated by Sunday, although conditions were clean and glassy with an apparent lack of wind.
As of this morning, the surf left a bit to be desired. Onshore breezes and a small 1ft swell was not helping our levels of motivation. Winds soon swung fresh southerly limiting any options we once had. With this breeze has come a small increase in size, but generally just short period wind swell/chop.
This week (Tuesday 13th - Friday 16th):
Any size generated by the fresh southerly air flow today will dissipate in the coming days leaving weak 1-2ft peaks at south facing beaches throughout Tuesday and the better part of Wednesday. Tuesday morning will offer light/variable-offshore breezes in the morning preceding a light/moderate northeasterly seabreeze. A north/northeasterly breeze will increase throughout Wednesday limiting options to protected northern corners.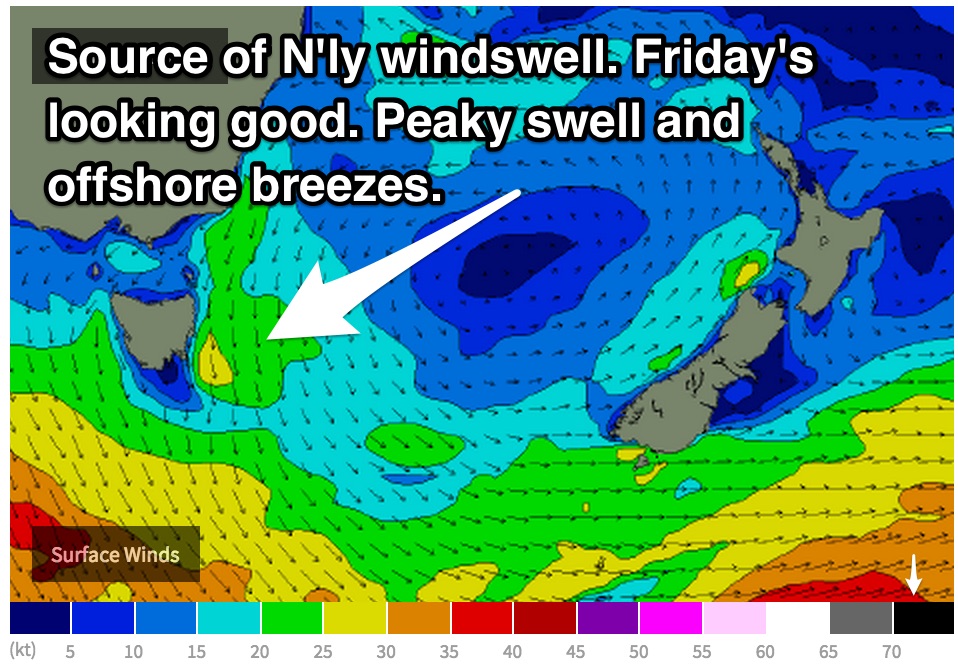 The aforementioned northeasterly component fetch will increase throughout Wednesday afternoon and Thursday whipping up a short range northeasterly wind swell. This energy will combine with a small remnant southerly swell to provide peaky surf in the 2ft range on Thursday and Friday.
Protection from the wind will be key on Thursday as northerly component winds look particularly gusty. Unfortunately this means a serious sacrifice in size. Winds are likely to tend light/moderate northwesterly on Friday. This looks like the best time for a wave.
This weekend (Saturday 17th - Sunday 18th):
This energy is likely to dissipate throughout Saturday leaving tiny 1ft remnants under light/moderate northwesterly breezes.
A deep low and front will move south of Tasmania and over the southern Tasman on Saturday however, with southwesterly trailing fetches generating a longer period groundswell due Sunday.
Due to the poor alignment of the 35-45kt core winds, we will have to rely solely on side-band energy. As a result, the size will be modest with south facing beaches building into the 2ft range by Sunday afternoon. West/northwesterly breezes look to dominate, definitely a day to keep an eye on.
Next week (Monday 19th onward):
Longer term, the swell looks to taper off to tiny 1ft back ground energy. There are very few indications of significant swell generating systems.