Plenty of S'ly swell but with average winds
Eastern Tasmania Forecast by Craig Brokensha (issued Monday 13th July)
Best Days: Protected spots every morning this week, exposed spots Sunday
Recap
Tiny and weak amounts of NE windswell Saturday and then SE windswell Sunday.
Today a mix of building S'ly windswell and large/stronger E/NE groundswell are filling in across the coast but with southern corners offering the only real size.
This week and weekend (Jul 14 – 19)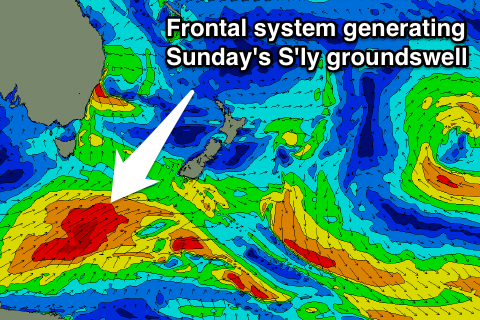 This afternoon's mix of S'ly and E/NE swell will ease back through tomorrow, although th S'ly swell should persist most of the week and tend more S/SE.
The E/NE swell was generated by a fetch of gale to severe-gale E/NE winds feeding into a broad low off the East Coast. The swell should ease through tomorrow from 3ft across open beaches, while the S'ly windswell should drop back a touch from 3-5ft across south facing beaches.
A new pulse of S/SE swell is due Wednesday though, with a fetch of strong S/SE winds to our south-east tomorrow, due to be projected towards us slightly before then tending more Sly and then pushing off east, out of our swell window.
South facing beaches should pulse to 3-5ft through the afternoon Wednesday, and then ease slowly from 3-4ft Thursday and then down from 2ft+ Friday.
Winds over the coming days will be best in protected locations tomorrow and Wednesday with SW tending S'ly winds and then SW winds Thursday. Friday will then see SW tending Sly winds mid-morning, limiting surfing options. This will also kick up a weak S'ly windswell for the afternoon to 2ft+.
Into the weekend, some good pulses of S'ly groundswell from a strong polar frontal progression pushing through our southern swell window are due.
An initial pulse Saturday to 3ft+ across south facing beaches is due to be followed up by a secondary larger pulse Sunday as the frontal system pushes more through our swell window up towards NZ. This should offer larger 3-5ft sets with hopefully NW winds, but we'll review this Wednesday.