Good later tomorrow, early Wednesday, Friday and Saturday
Eastern Tasmania Forecast by Craig Brokensha (issued Monday 15th December)
Best Days: Later Tuesday, Wednesday morning, Thursday morning, Friday morning, Saturday
Recap
Saturday started small to tiny and average with N'ly tending stronger N/NE winds, but these kicked up a good NE windswell to 2-3ft Sunday as a gusty S'ly change slowly pushed up the coast, favouring southern corners once it hit.
Today the NE swell was back to a small 1-2ft but conditions cleaner with a light morning offshore before the N/NE'ly kicked up again.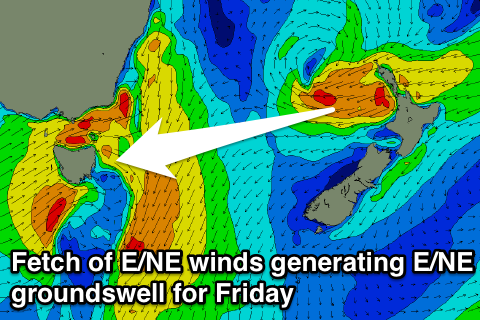 This week and weekend (Dec 16 - 21)
Tomorrow will see the NE windswell kick up again across the coast as a broad and strong fetch of NE winds develop down the Southern NSW coast and across the exit of Eastern Bass Strait.
Tomorrow morning should only be small and in the 2ft range but a rapid kick in size is expected, reaching 3-5ft by dark across north-east facing beaches. Winds also look to swing offshore from the NW late as the swell peaks creating rapidly improving conditions worth a scout around near dark.
Come Wednesday morning there isn't expected to be much size left from the windswell, but a new E/NE groundswell from over near New Zealand is due to peak.
This groundswell has been generated as the low pressure system sitting off the NSW coast drifted east over the weekend towards New Zealand, aiming a fetch of strong to gale-force E'ly winds through our swell window yesterday and early this morning.
Size wise we should see good but inconsistent 3ft sets across open beaches Wednesday morning from this initial pulse before easing through the day. Conditions should be great for this swell with offshore and fresh W/SW winds, tending variable mid-late afternoon.
Into Thursday the E/NE swell is expected to back off to the smaller 2ft+ range but hold all day as a weaker fetch of E'ly winds remained aimed at us today. A re-strengthening and better alignments of the fetch during tomorrow and Wednesday as a low drifts from off the Qld coast down towards New Zealand's North Island will produce another good pulse of E/NE groundswell for Friday morning. This looks to come in at 3ft+ again across the beaches, peaking through the middle of the day.
Winds will be good again and offshore from the W/SW ahead of a weak sea breeze into the afternoon.
From here the swell will drop away through Saturday and further Sunday from 2-3ft and 1-2ft respectively under offshore winds each morning.
Monday onwards (Dec 22 onwards)
Longer term there's nothing too major for next week besides some NE windswell for Monday but we'll review this again Wednesday.