Increase in swell energy from the end of the week as trades kick back in
Bali and Mentawais forecast​​​​​​ by Craig Brokensha (issued Tuesday 16th October)
Best Days: Swell magnets tomorrow and Saturday morning, similar Tuesday morning and then Thursday onwards
This week through next week (Oct 17 - 26)
Bali: The surf is currently small and we're due to see a slight kick in new swell later today, peaking through tomorrow to 4-6ft across south swell magnets. This swell was generated by a strong though small polar low in the Heard Island region late last week.
This swell will ease through Thursday ahead of our new longer-period S/SW groundswell for Friday.
Briefly looking at the winds tomorrow and we've got unfavourable S'ly breezes due, tending SW through the day, out of the S/SW most of Thursday before S/SE trades try to kick in Friday but more so from the weekend. There should still be periods of variable breezes each morning but the afternoons will be average the next few days.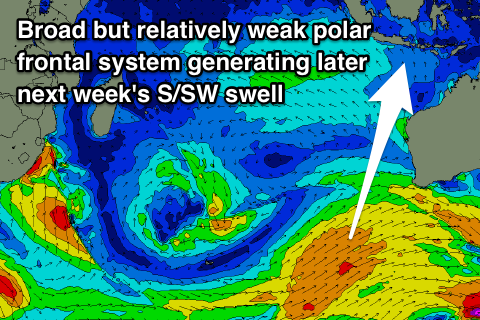 Friday's swell has been downgraded a touch since last Thursday, with the strong storm firing up south-west of Western Australia being strongest when not aimed ideally in our swell window.
A severe-gale pre-frontal W/NW fetch was produced followed by a small burst of storm-force W/SW winds and broader but weaker trailing fetch of strong to gale-force W/SW winds yesterday.
With this we're looking at a touch less size but a more prolonged swell event, with weak mid-period energy continuing through the weekend, helped by the tail of the storm still projecting strong SW winds towards us today.
The long-period energy should arrive later Thursday and peak Friday to 5-6ft across exposed south swell magnets, easing slowly Saturday from 4-6ft, smaller Sunday and Monday before bottoming out later Tuesday.
Our next swell will come from a fairly acute S'ly direction, as a series of strong polar fronts fire up south-west of WA. At this stage we're looking at a moderate to large mid-period S/SW groundswell for Wednesday/Thursday next week to 5-6ft or so, but check back here Thursday for confirmation on this.
16 day Bali Forecast Graph
16 day East Java Forecast Graph
16 day Sumbawa Forecast Graph
Ments: The new S/SW swell due tomorrow should provide a fun boost in size across exposed south facing breaks to 4-5ft, with a drop into Thursday ahead of some new S'ly groundswell spreading radially up off the storm that developed south-west of WA.
A late kick in size is likely Thursday ahead of a peak on Friday around 4-6ft, with the reinforcing mid-period energy slowing the easing trend through the weekend and into early next week.
Make the most of this though as there's nothing to significant at all through next week or the following weekend.
Winds over the coming days will vary with a small tropical low moving through the region, with a SW'ly likely to develop later tomorrow and then NE tending NW winds on Thursday depending on your location around the region. Friday then looks NW tending SW before morning SE trades kick in from Saturday, tending S/SE each afternoon.
16 day Mentawai forecast graph
16 day Nias forecast graph
16 day South Sumatra forecast graph