Thursday, 16 August 2018
Easing surf with a new pulse early next week, larger late week
Bali and Mentawais forecast​​​​​​ by Craig Brokensha (issued Thursday 16th August)
Best Days: Friday, Saturday, later Sunday through Tuesday and then Thursday onwards
This week and next (Aug 17 - 24)
Bali: A good new long-period SW groundswell built solidly into yesterday afternoon and we've seen it hold today to a strong 6-8ft across exposed breaks.
The swell should start easing from tomorrow, down from 6ft+ across swell magnets, smaller into Saturday and bottoming out early Sunday.
Some new background SW groundswell is due to arrive through Sunday and build slowly, mixed later in the day with a better though acute S/SW groundswell, peaking Monday morning.
The acute swell has and is still being generated by a strong and slow moving polar storm that developed east of Heard Island yesterday, since projecting north-east towards WA.
There's been no change to the expected size with the background energy likely to reach 4-6ft by dark across swell magnets, with a peak Monday morning at south swell magnets to 6ft+, easing thereafter.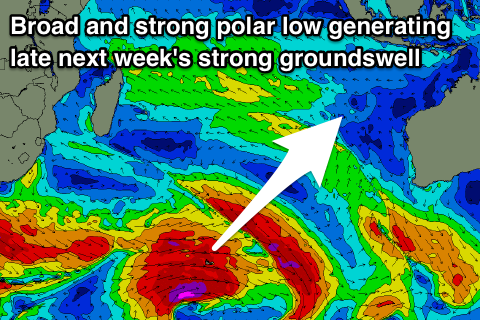 We'll see moderate to fresh E/SE trades through this period, persisting through the end of next week, lighter and more variable each morning.
The S/SW swell should continue to ease through Tuesday and bottom out Wednesday ahead of new inconsistent SW groundswell Thursday.
This swell formed in our far swell window, south-east of South Africa, with the remnants of the storm due to push north-east across the Heard Island region and closer towards us, but without much strength.
This will provide some mid-period energy to the mix, with Thursday due to come in at 4-5ft or so.
A larger and better long-period S/SW groundswell is due Friday and Saturday across the region, produced by a much more significant polar low forming west of Heard Island this weekend.
A broad fetch of severe-gale W/SW winds will be produced, with possible storm-force core winds, moving slowly east through our swell window before breaking down on the eastern side of Heard Island.
The groundswell is due to arrive Friday and build to 6-8ft+ across magnets through the day, easing off from 6-8ft Saturday, smaller Sunday. The models are combining the exisiting groundswell from Thursday with the new swell and over-forecasting the size on Friday and Saturday.
Longer term we may see a slightly smaller but strong groundswell for Sunday/Monday the 26/27th, but more on this in the next update.
16 day Bali Forecast Graph
16 day East Java Forecast Graph
16 day Sumbawa Forecast Graph
Ments: A good SW groundswell is breaking across the region this morning and this should start to ease through this afternoon and further tomorrow across the region.
Winds are due persist out of the SE over the coming days and period, fresh and possibly a touch more E/SE each morning. Northern parts of the region will see more variable winds through the coming period.
As the swell continues to ease through the weekend some new background S/SW groundswell is due to slowly build Saturday afternoon, reaching 3-5ft by dark, with a peak Sunday more to 4-5ft.
This will be mixed in with some mid-period S'ly swell from the strong persistent trades to our south.
The swell is due to ease through early next week ahead of the new S/SW groundswell Wednesday afternoon, peaking Thursday morning.
A touch more size is due across our region compared to Bali with it being generated a touch closer. We should see sets building to 4-6ft by late Wednesday and peaking Thursday morning to 5-6ft.
The stronger groundswell due late week is looking good, coming in out of the S/SW on Friday and peaking to 6-8ft, tailing off slowly into the weekend. We'll have a closer look at this on Tuesday though.
16 day Mentawai forecast graph
16 day Nias forecast graph
16 day South Sumatra forecast graph