Active forecast period, especially next week
Bali and Mentawais forecast​​​​​​ by Craig Brokensha (issued Thursday 14th June)
Best Days: Tomorrow afternoon onwards
This week through next weekend (Jun 15 - 24)
Bali: Easing surf after a kick in new swell Tuesday afternoon has been seen, with a temporary low point expected tomorrow morning ahead of a new inconsistent long-period S/SW groundswell.
This swell is due to be a touch smaller than the swell we just saw, building through the afternoon and kicking to 6ft+ at magnets late in the day, easing back from 4-6ft Saturday.
Monday's new long-period S/SW groundswell is looking good with a tight and intense polar low generating a fetch of storm-force W'ly winds through our swell window while tracking less than ideally east-southeast.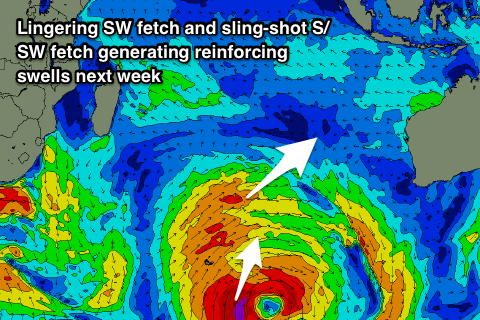 The swell may be seen later Sunday but a peak is due Monday to a strong 6ft across exposed breaks, easing through the afternoon ahead of our new SW groundswell episode from Tuesday.
A prolonged period of 6ft to occasionally 8ft surf at magnets is due from Tuesday through Thursday as a large multi-threaded polar low aims various fetches towards us over the coming days while slowly moving east towards WA.
Currently a slither of pre-frontal severe-gale NW winds are being followed by post-frontal W/SW gales, generating an initial large SW groundswell for Tuesday, building to 6-8ft at magnets through the day.
Persistent broad W/SW gales should keep the surf up around 6ft+ on Wednesday, while a sling-shot of gale to severe-gale S/SW winds at the base of the broad progression will generate a reinforcing S/SW swell for Thursday again to 6ft to occasionally 8ft at south magnets.
The surf will then ease back through Friday and further Saturday morning. Our next pulse of groundswell looks to arrive later Saturday and Sunday morning, generated by a strong but poorly aligned fetch of severe-gale W'ly winds on the polar shelf, south-west of WA early next week.
We're probably looking at a good 6ft of groundswell, but more on this next update.
Our run of weaker trades will end from tomorrow with slowly strengthening E/SE trades due from tomorrow, stronger into Sunday and all of next week. With this though there should still be periods of variable breezes early morning with local land breezes.
16 day Bali Forecast Graph
16 day East Java Forecast Graph
16 day Sumbawa Forecast Graph
Ments: Easing surf today, but into tomorrow afternoon a new inconsistent long-period S/SW groundswell should fill in, offering 4-5ft sets across south magnets, easing back into Saturday.
S/SE-SE winds will persist over the coming days, before becoming more variable into Sunday, remaining so until about Thursday next week when they'll kick up again from the SE.
Later Sunday's and Monday morning's first pulse of S/SW groundswell from the tight intense low should build to 4-6ft at south magnets by dark, holding a similar size Monday morning.
We'll then see the larger SW groundswell energy building into Monday afternoon reaching 6-8ft by dark, easing slowly from a similar size Tuesday morning.
The secondary more S'ly swell will arrive through Wednesday afternoon, keeping 6ft+ sets hitting exposed south facing breaks until Thursday morning, then easing as those SE winds kick back in.
Longer term, the new swell due across Bali on the weekend of the 23/24th will for too late in our swell window and not be aimed towards us. Therefore no major size is expected off this.
16 day Mentawai forecast graph
16 day Nias forecast graph
16 day South Sumatra forecast graph