Good surf from next Tuesday
Bali and Mentawais forecast​​​​​​ by Craig Brokensha (issued Thursday 7th June)
Best Days: Saturday morning, Tuesday afternoon onwards
This week and next (Jun 8 - 15)
Bali: Good fun waves across most breaks yesterday and this morning, but the swell is getting smaller and will bottom out tomorrow morning.
An increase in new weak mid-period SW swell is due tomorrow afternoon, peaking Saturday. The front generating this swell pushed high into the Indian Ocean, but core wind strengths in the fetch were far from impressive.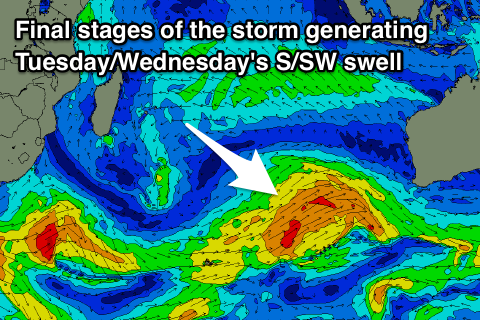 Still, an increase in size is expected through tomorrow afternoon, reaching 3-5ft at magnets from a SW direction, while a peak is due Saturday to 4-5ft as the swell swings more S/SW. This will see the size difference between the Bukit and swell magnets increase.
We'll also see moderate to fresh E/SE trades kick back in from tomorrow, strongest Sunday and Monday before easing back temporarily mid-next week. Each morning though we should see lighter and more variable winds owing to local land breeze effects.
Saturday's swell will ease back through Sunday and bottom out Monday afternoon ahead of a good new long-period S/SW groundswell Tuesday and Wednesday.
This swell is being generated by a polar frontal system that formed west of Heard Island and is now projecting nicely through our swell window up towards Western Australia.
Gale-force W/SW winds moving at a similar speed to the swell in a captured fetch motion will help amplify wave heights, generating a good large long-period S/SW groundswell that's expected to build Tuesday and reach 6ft to most likely 8ft at swell magnets on dark, easing back from a similar size Wednesday morning.
A similar sized though less consistent and longer-period S/SW groundswell is due later in the week, produced by a smaller, tighter though stronger polar storm developing over the weekend.
We should see the swell fill in Friday and build to 6ft+ across magnets later in the day, easing from 5-6ft Saturday the 16th. Beyond this our larger and stronger storm developing south-east of South Africa is still on track, with a broad slow moving low due to project multiple fetches through our south-western swell window.
What we'll see is a prolonged large and inconsistent SW groundswell event from later Sunday the 17th through early next week that looks to be around 6-8ft, but more on this Tuesday.
16 day Bali Forecast Graph
16 day East Java Forecast Graph
16 day Sumbawa Forecast Graph
Ments: Workable waves but only at a few select spots with the local winds resulting in crowding at some breaks.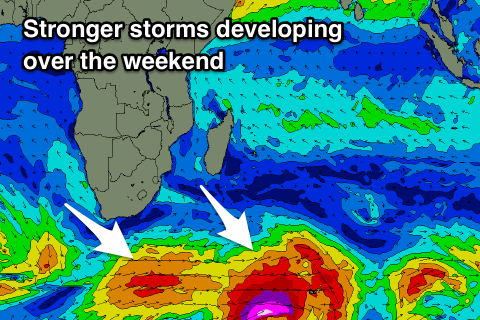 The surf is easing away today as winds also ease, tending variable through tomorrow and remaining so during Saturday.
The weak mid-period S'ly swell should build tomorrow afternoon, reaching 3-5ft across magnets, holding Saturday and then easing into Sunday.
It looks like S/SE winds will freshen again into Sunday and Monday as the swell eases, persisting through most of next week before hopefully tending more variable next Thursday/Friday.
During this period the better long-period S/SW groundswell should fill in, building later Tuesday and reaching 5-6ft on the sets by dark, holding 6ft Wednesday and then easing back later in the day and more so Thursday.
The less consistent longer-perid swell for late week isn't as favourable for our region, coming in Friday to 3-5ft across exposed breaks before easing Saturday.
The larger SW groundswell energy for the weekend and early the week of the 18th looks better, but we'll have a closer look at this Tuesday.
16 day Mentawai forecast graph
16 day Nias forecast graph
16 day South Sumatra forecast graph