Small to tiny ahead of larger swells next weekend
Bali and Mentawais forecast​​​​​​ by Craig Brokensha (issued Thursday 17th May)
Best Days: Bali: Wednesday afternoon onwards - Ments: Wednesday onwards
This week and next week (May 18 - 25)
Bali:I hope you've made the most of the last couple of days of waves, as we're expected to see the surf become tiny to flat over the coming days, with no significant swell due until mid-next week.
A lack of storm activity in the Indian Ocean is to blame, but currently a weak mid-latitude front south-east of Madagascar should produce a small new mid-period SW swell for Wednesday afternoon.
A stronger system right on its tail will produce a better fetch of severe-gale to storm-force W/SW winds in our far swell window, producing a larger long-period SW groundswell for Thursday.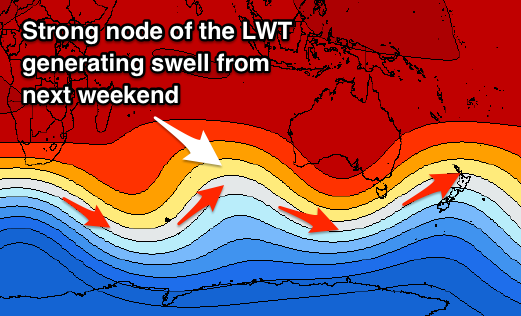 Wednesday's swell is expected to reach an inconsistent 4ft at magnets into the afternoon/evening, with Thursday's pulse providing better and stronger 6ft sets across magnets into the afternoon, though similarily inconsistent.
A drop in size is then due Friday morning from 4-5ft+, smaller Saturday.
Now, from later Saturday the 26th and more so Sunday the 27th we're due to see more significant SW-S/SW groundswells energy across our region, owing to a flurry of vigorous mid-latitude frontal activity in the eastern Indian Ocean owing to a strong pronounced node of the Long Wave Trough.
It's too early to put down exact sizes and timing, but we're looking at at least 6-8ft of swell from Sunday through early the following week, but more on this Tuesday.
16 day Bali Forecast Graph
16 day East Java Forecast Graph
16 day Sumbawa Forecast Graph
Ments: Similar to Bali, make the most of the current waves as the swell is on the way out, with small to tiny surf due over the weekend and into early next week.
The mid-period SW groundswell should filling Wednesday and provide 3-5ft sets across our magnets, while Thursday's swell looks fun with long-period and strong sets to 6ft through Thursday (possibly a little undersized at dawn).
Winds should be light and variable through the weekend and next week, with the swell dropping back slightly through Friday.
We then look towards the large S/SW groundswell due the weekend of the 26/27th and into early the following week, with large 6-8ft+ pulses due through this period. Check back Tuesday for more on this.
16 day Mentawai forecast graph
16 day Nias forecast graph
16 day South Sumatra forecast graph