Slow ahead of a new swells early next week
Bali and Mentawais forecast​​​​​​ by Craig Brokensha (issued Thursday 3rd May)
Best Days: Bali - No great days until Tuesday afternoon next week, Ments Monday afternoon onwards
This week and next (May 4 - 11)
Bali: Small surf bottoming out across the region today, but some new mid-period SW swell should increase wave heights slightly tomorrow.
Swell magnets should see 3-5ft sets, easing back through Saturday. Sunday morning looks smaller again, but into the afternoon a new very inconsistent S/SW groundswell will provide sets at south magnets.
This swell was generated south-east of Heard Island, on the polar shelf and as a result there'll be long waits for 3ft to maybe 4ft sets, easing back through Monday.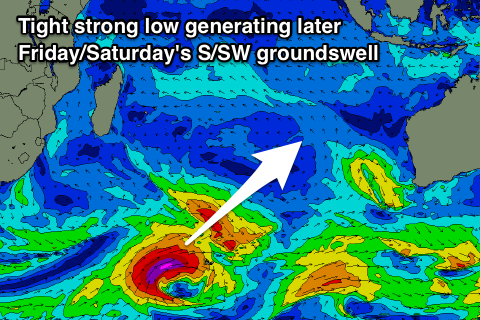 A long-period signal showing later Sunday and Monday doesn't have any size attached to it at all, with it being generated by a very distant storm.
We then look to the new S/SW groundswell due to fill in Tuesday, with a secondary pulse for Wednesday and third later Friday/Saturday.
Both swells have been downgraded a little but we should see fun sets up to 6ft across magnets through the period.
The first swells for Tuesday through Thursday will be generated by a flurry of strengthening polar frontal activity between Heard Island and Western Australia.
We should see exposed breaks building to 6ft on the sets later Tuesday, holding Wednesday and then easing back slowly from 4-6ft Thursday morning.
The secondary stronger and intense polar low that was forecast to generate a larger swell is still on track, but it's a little smaller in scope and not as long lived.
We'll see a small fetch of severe-gale to storm-force W/SW winds develop west of Heard Island Friday evening, moving slightly east-northeast while maintaining strength through until Monday morning, then weakening.
We should see a large long-period S/SW groundswell produce for late in the week, building Friday afternoon to the 6ft range, peaking Saturday morning around 6ft+.
Following this swell we may see a larger groundswell for Sunday, but we'll have another look at this next week.
E/SE trades over the coming period are expected to strengthen through next week, though early each morning a period of variable winds are due.
16 day Bali Forecast Graph
16 day East Java Forecast Graph
16 day Sumbawa Forecast Graph
Ments: A slight kick in mid-period swell should have been seen later yesterday and this morning, and make the most of it, as from here it's going to be really small until early next week.
A very inconsistent long-period SW groundswell is due to fill in Monday providing 3-4ft sets at magnets by later in the day, easing through Tuesday.
As this swell eases, the new S/SW groundswell energy will fill in, kicking the surf further towards 5ft on the sets Tuesday afternoon, maintaining 4-5ft through Wednesday. The secondary long-period swell should see better sets to an easy 6ft Friday afternoon, easing back Saturday.
S/SE winds look to persist across the region tomorrow and Saturday, becoming more variable through Sunday and more so Monday through next week.
Longer term the larger S/SW groundswell for Sunday the 13th looks good, but more on this Tuesday.
16 day Mentawai forecast graph
16 day Nias forecast graph
16 day South Sumatra forecast graph