Slow period ahead of good swells early-mid next week
Bali and Mentawais forecast​​​​​​ by Craig Brokensha (issued Tuesday 1st May)
Best Days: Bali - exposed breaks Wednesday mornng, Friday morning, Tuesday 8th onwards, Ments - swell magnets Wedesnday and Thursday, next Monday afternoon the 7th onwards
This week and next (May 2 - 11)
Bali: Yesterday saw an initial new moderate sized S/SW groundswell pulse through the morning, but our larger more powerful long-period S/SW groundswell wasn't expected until the afternoon.
Wave heights jumped solidly later in the day, with a peak overnight and drop through today.
We'll see the swell continue to ease steadily over the coming days as a result of the strong polar low pushing east quickly out of our swell window after generating the large swell.
Moderate to fresh E/SE trades will persist all week with more variable breezes early each morning, and this will open up exposed breaks which will offer the best waves, as the Bukit reefs will become small tomorrow, tiny into Thursday.
We should see easing sets from 4-5ft at magnets tomorrow, down to 3ft+ Thursday.
A slight pulse if inconsistent SW groundswell is due Friday, generated by a relatively weak but persistent low that formed south-east of Madagascar last week.
Swell magnets should offer infrequent 3-5ft sets Friday, easing back into Saturday.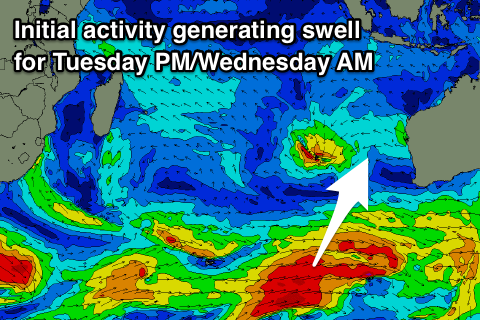 A very inconsistent and small pulse of S/SW groundswell may be seen Sunday afternoon, produced by a relatively small and distant polar fetch of SW gales, east of Heard Island yesterday.
This swell isn't expected to provide any major size with 3ft to maybe 4ft sets at south magnets into the afternoon, easing from 3ft Monday.
Of greater importance is a flurry of unconsolidated but strong polar frontal activity developing between Heard Island and Western Australia from later this week, through the weekend and early next week.
An initial fetch of strong to gale-force W/SW winds will produce an active sea state for stronger gale to severe-gale W/SW winds to move over in our southern swell window.
A moderate to large S/SW groundswell will be generated, building Tuesday and peaking later in the day, easing slowly Wednesday. Some long-period energy showing on the charts for Monday has no size attached to it, but we should see exposed breaks to the south swell building towards a good 6ft, if not a touch bigger on dark, easing from 5-6ft Wednesday.
A much stronger polar low is due to generate a great fetch of severe-gale to storm-force W/SW winds for a prolonged period in the wake of the previous storms, producing a long-lived and large long-period S/SW groundswell Friday afternoon/Saturday morning that looks to be in the 8ft+ range. More on this swell next update.
16 day Bali Forecast Graph
16 day East Java Forecast Graph
16 day Sumbawa Forecast Graph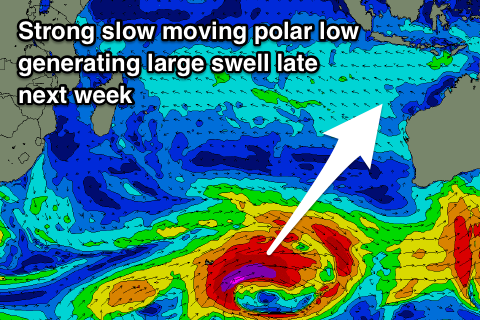 Ments: Easing S'ly groundswell across the region today, with a further drop in size due through tomorrow from the 3-4ft range across magnets.
The mid-period SW swell should boost wave heights back into Thursday morning, coming in at 3-5ft, easing slowly through the day, small Friday and then tiny into the weekend.
Winds are due to take a slight S/SE tendency from Thursday afternoon through the weekend, tending more variable into early next week.
Looking at the swell into next week, and the very long-period energy with no real size is looking better for the Mentawai region. Generated in our far far swell window and with no other swells in the water, exposed breaks should increase to a very infrequent 3-4ft later Monday easing Tuesday.
The S'ly swell energy from the frontal activity between WA and Heard Island should fill in Tuesday afternoon though, but only reach 4-5ft or so later in the day, easing back into Wednesday.
The secondary larger swell is looking better with it being generated a touch further west and more in our swell window. Sets to 6ft to maybe 8ft are likely later Friday, but more on this next update.
16 day Mentawai forecast graph
16 day Nias forecast graph
16 day South Sumatra forecast graph