Oversized swell for Sunday/Monday, good S/SW swells from next weekend
Bali and Mentawais forecast​​​​​​ by Craig Brokensha (issued Thursday 19th April)
Best Days: Swell magnets the coming days, then experienced surfers only Sunday through Tuesday
This week and next (Mar 20 - 27)
Bali: The surf's small into today, but later today and more so tomorrow a small mid-period SW swell should provide a small spike in size. We're only talking weakish 4-5ft+ waves across magnets, easing back through Saturday.
We then look towards the long-period and oversized SW groundswell due Sunday/Monday, with no real change to the forecast size or timing.
The forerunners arriving late in the day Saturday and more so overnight, with a strong steady increase in size Sunday, building towards 6ft to likely 8ft on dark, with a peak Monday to 8ft to occasionally 10ft across swell magnets. Due to the large travel distance between the swell and our region there'll be long waits between sets, which will be a blessing and a curse as the horizon lights up after a lull.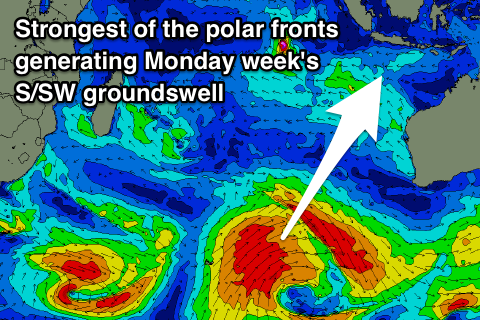 The swell should hold most of the day before starting to ease, dropping slowly from 6-8ft Tuesday, and the 6ft range Wednesday owing to some slight reinforcing energy from a couple of fronts projecting towards WA over the coming days.
Conditions will be excellent on the reefs through this swell event with moderate to fresh E/SE trades (light and variable each morning).
Moving into the end of the week and more so next weekend, our new S/SW groundswell pulse is still on the cards, followed by another Monday the 30th.
A series of strong back to back polar fronts forming in the Heard Island region over the weekend will produce back to back S/SW groundswell pulses, with the second swell being the largest, produced by the strongest front.
The first swell should be seen late Friday but a peak is expected Saturday to a good 6ft, easing Sunday ahead of the secondary pulse Monday to 6ft to occasionally 8ft. Beyond this we're looking at slightly smaller swells, but more on this Tuesday.
16 day Bali Forecast Graph
16 day East Java Forecast Graph
16 day Sumbawa Forecast Graph
Ments: Currently we should be seeing the mid-period S/SW swell building across the region, with sets between 4-6ft expected this later today and tomorrow morning, easing slowly thereafter.
The oversized SW groundswell for Sunday will build very rapidly and only be for the most experienced of surfer, with sets due to climb towards the 10ft+ range at magnets into the mid-late afternoon.
A slow drop should be seen Monday from 8-10ft+, further Tuesday and Wednesday, bottoming out Friday.
The S/SW groundswells for Bali will be generated fairly late in our southern swell window, with less size expected across the Ments, coming in around 4-5ft+ Saturday with the second swell Monday more to 6ft.
Winds are due to remain light and variable this period favouring most locations.
16 day Mentawai forecast graph
16 day Nias forecast graph
16 day South Sumatra forecast graph