Large swell to end the week, with another pulse for the weekend
Bali and Mentawais forecast​​​​​​ by Craig Brokensha (issued Thursday 17th August)
Best Days: Experienced surfers across Bali tomorrow through Sunday, again later Wednesday and Thursday morning
This week and next (Aug 11 - 18)
Bali: Great large surf out of the S/SW the past few days with a slight drop in energy this morning, but this will only be short-lived. A large new S/SW groundswell should lift wave heights this afternoon to the 8ft+ range, easing back from 8ft or so on the sets tomorrow morning, further into Saturday.
Our large new S/SW groundswell for later Saturday and Sunday morning is still on track, with a vigorous polar frontal system projecting a fetch of gale to severe-gale SW winds into the south-west of WA.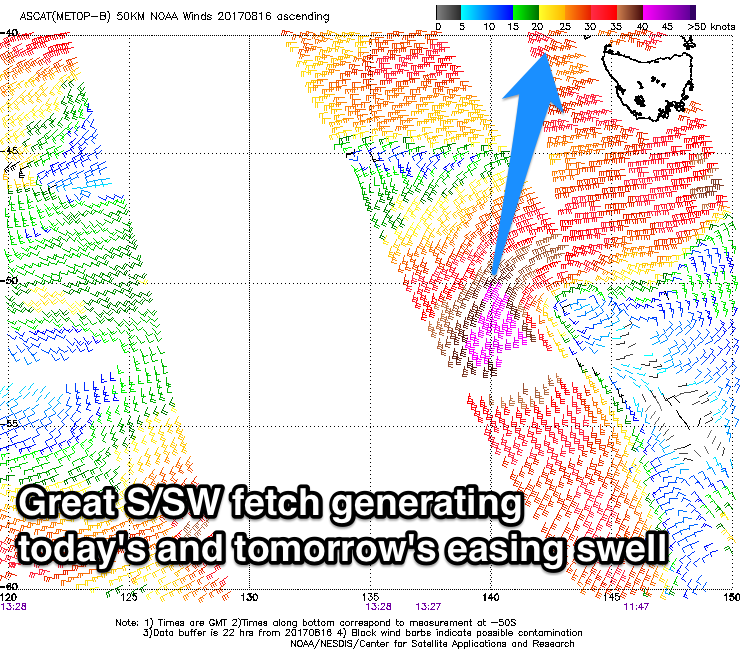 This swell has peaked this morning across WA and will push up towards us over the coming days, arriving Saturday morning and building to a large 6-8ft across exposed breaks through the afternoon, easing back from a similar size Sunday morning.
This swell will be extra south so expect the energy to become smaller than normally seen east of Bali.
The swell will continue to drop through early next week ahead of our next significant swell which is due Wednesday afternoon.
This will be generated by a vigorous polar storm currently positioned west of Heard Island.
A fetch of severe-gale W/NW tending W'ly winds will create an inconsistent but good S/SW groundswell that's due to build Wednesday, reaching an inconsistent 6ft+ by later in the day, easing back from 5-6ft Thursday morning.
From here there's nothing significant due until later next weekend when we may see a good sized S/SW groundswell, but more on this Tuesday.
Winds over the coming period are due to be lighter tomorrow, with fresh E/SE trades kicking in from Saturday (variable each morning).
16 day Bali Forecast Graph
16 day East Java Forecast Graph
16 day Sumbawa Forecast Graph
Ments: A large S'y groundswell should be filling in across our region today, with exposed south facing breaks expected to reach 6ft+ by later today, peaking tomorrow morning to 6-8ft.
The swell will then ease through Saturday, with the swell hitting Bali on the weekend being generated just out of our swell window.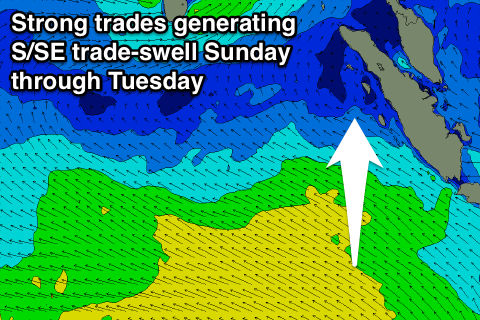 Instead moderate amounts of S/SE trade-swell are expected, with the slightly stronger pulse for Monday being downgraded a touch.
Currently a strengthening and broadening fetch of strong SE winds are forming to our south, with the fetch due to push closer to us over the coming weekend.
We'll see moderate amounts of S/SE swell generated, building through Sunday and peaking Monday to 3-5ft across exposed south facing breaks.
Winds will unfortunately become poor for these spots, with a fresh and gusty SE'ly kicking in from Saturday, persisting until late next week. With this weaker S/SE swell, more protected spots will be much smaller than seen with a S/SW groundswell.
The strong polar front forming west of Heard Island today will generate some better S/SW groundswell for Wednesday afternoon and Thursday, peaking around 4-6ft before easing into the end of the week.
16 day Mentawai forecast graph
16 day Nias forecast graph
16 day South Sumatra forecast graph