Large S/SW groundswell for the weekend, fun surf next week
Bali and Mentawais forecast​​​​​​ by Craig Brokensha (issued Tuesday 11th July)
Best Days: Late Friday onwards
This week and next (Jul 12 - 21)
Bali: We've got small surf easing across the region and tomorrow will see the waves continue to bottom out.
An inconsistent increase in background S/SW groundswell is due Thursday, bumping magnets back to 3-5ft, similar into Friday morning.
Of greater importance is the S/SW groundswell energy due later Friday and more so Saturday, with an upgrade in size from last Thursday.
Currently a vigorous polar frontal progression is positioned between Heard Island and Western Australia.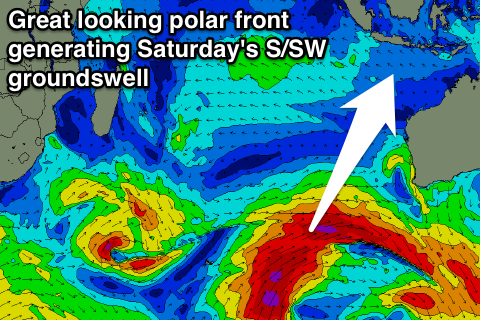 An initial vigorous polar front generated a fetch of severe-gale to storm-force W'ly winds in our southern swell window, with a long-period S/SW groundswell arriving Friday and building to an inconsistent 4-6ft by dark across exposed breaks.
A much larger and more consistent S/SW swell is due to fill in Saturday, generated by a broader and more favourably aligned and positioned polar front that's currently aiming gale to severe-gale W/SW-SW winds towards WA.
We should see this swell filling in Saturday, building towards a peak into the afternoon around 8-10ft at exposed breaks.
A gradual drop in size is then due Sunday and Monday, with the next swell due Tuesday afternoon. This swell looks to be in the moderate to large size-range, with a tight low generating winds in the severe-gale to storm-force range to the south-east of South Africa.
The direction of this swell will be good, coming from the SW and building through Tuesday ahead of a peak Wednesday to 4-6ft across most breaks.
Behind this another similar but broader mid-latitude frontal progression should produce a larger SW groundswell later in the week, but we'll have a closer look at the timing and size of this swell Thursday.
Moderate to fresh E/SE trades are due over the coming period, strengthening Friday through Monday. Early each morning more variable winds are due across all locations due to local land breezes kicking in.
16 day Bali Forecast Graph
16 day East Java Forecast Graph
16 day Sumbawa Forecast Graph
Ments: The swell is at a low point, with a slow increase in distant S/SW groundswell expected through tomorrow afternoon, peaking Thursday to 3-5ft at south magnets.
Of greater importance is the S'ly groundswell spreading up into us from the activity between Heard Island and Western Australia.
The first front was aimed away from us, but the current developments are aiming a good fetch through our southern swell window. Long-period lines should be seen late Friday, while the swell is expected to peak Saturday to a strong 6-8ft+ across south magnets, easing off Sunday, smaller Monday.
The tight low generating the SW groundswell for Bali next week, will generate some good size across our region, with a peak through Tuesday likely to reveal surf in the 6ft range.
The larger swell possible late week is also looking tasty for our region, but variable winds (SE over the next couple of days) are likely to give into a fresher SE'ly later next week, more on this Thursday.
16 day Mentawai forecast graph
16 day Nias forecast graph
16 day South Sumatra forecast graph