Large south swell early next week
Bali and Mentawais forecast​​​​​​ by Craig Brokensha (issued Thursday 29th June)
Best Days: Friday afternoon onwards
This week and next (Jun 30 – Jul 7)
Bali: After a small inconsistent run of waves, we should see a touch more power and size on the sets into tomorrow afternoon and Saturday, but the consistency will remain at an all time low.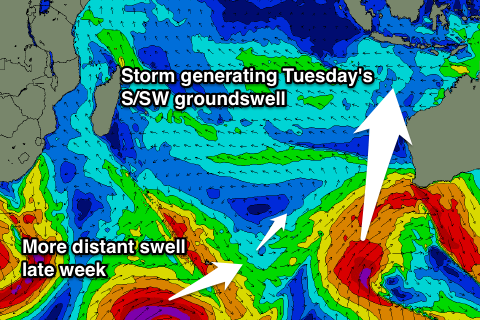 A SW groundswell generated south of South Africa is due to fill in, peaking Saturday to a very inconsistent 4-6ft across magnets through the day, easing into Sunday.
The waits between sets will be in the order of 10 minutes or more, so there'll be a lot of sitting and waiting around.
Of greater importance is a larger, more consistent and better S/SW groundswell due late Monday and Tuesday across the region.
This is currently being generated by a fetch of gale to severe-gale SW winds projecting towards Western Australia from the Heard Island region, with a sling-shot of near storm-force S/SW winds helping to produce the most size Tuesday morning.
We should see the swell arriving Monday afternoon, kicking to 6ft+ by dark ahead of a peak Tuesday morning in the 6-8ft range at exposed south facing breaks. Locations tucked away from this south swell like the inside Bukit Reefs will see much less size.
Conditions are looking good for this swell with weak E/SE trades over the coming period, variable each morning.
A drop in size is due Tuesday afternoon, further from the 6ft range Wednesday morning, smaller Thursday.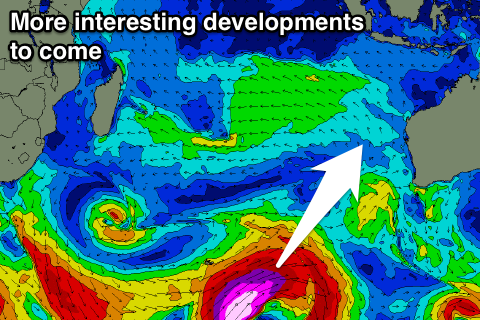 The only other swell due next week is a very inconsistent S/SW groundswell Friday, produced by a strong but not well structured polar low developing west of the Heard Island region tomorrow.
A tight fetch of severe-gale to storm-force W/SW winds will be generated in our far swell window, with the swell due to arrive late Thursday and peaking Friday around 5-6ft+ across exposed breaks.
Longer term we're looking at a vigorous polar frontal system firing up along a similar track to the current storm projecting towards WA.
If this storm stays on forecast we can expect storm-force+ winds to be aimed through our southern swell window, generating a large powerful long-period S/SW groundswell later Sunday/Monday the 9/10th of July. More on this Tuesday.
16 day Bali Forecast Graph
16 day East Java Forecast Graph
16 day Sumbawa Forecast Graph
Ments: Later today we should be seeing the inconsistent SW groundswell that was generated south of WA showing on the coast, with a peak due through tomorrow to a good but inconsistent 5-6ft across exposed breaks.
Conditions are looking better now with a variable breeze due all day, with variable winds due for the rest of the forecast period.
Easing surf should be seen from Saturday, smaller through Sunday and Monday ahead of some S'ly groundswell Tuesday from the front pushing towards WA.
Exposed south facing breaks should see good 6ft sets, easing off into Wednesday, with the strong tight polar low generating some reinforcing S/SW swell Thursday/Friday in the 4-6ft range, though very inconsistent.
Longer term we look towards the large S/SW groundswell impacting Bali around the 9/10th, with the swell due across our coasts on the 10th with a touch less size. More on this in the next update.
16 day Mentawai forecast graph
16 day Nias forecast graph
16 day South Sumatra forecast graph