Tuesday, 13 September 2016
Smaller surf ahead of a large S/SW swell Monday
Bali and Mentawais forecast by Craig Brokensha (issued Tuesday 13th September)
Best Days: Every day over the coming period
This week and next (Sep 14 - 23)
Bali: The final pulse of groundswell in what's been a standout period arrived last night across the region and was still large and solid this morning to 6-8ft, but a steady drop in size should be seen from this afternoon.
The surf will continue to ease through this week, down from 6ft across south magnets tomorrow morning, smaller Thursday and bottoming out Friday afternoon.
Weak E/SE trades are due over the coming days and weekend, light and variable each morning.
Into the weekend some new inconsistent S/SW groundswell is due from a relatively weak polar front in the Heard Island region the last couple of days.
We should see this swell filling in Saturday with inconsistent 4-5ft sets across exposed south facing breaks, holding 3-5ft Sunday morning.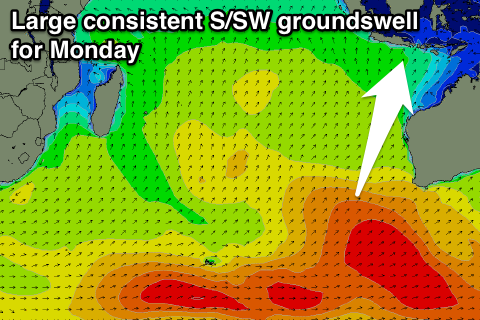 Of greater importance is a better S/SW groundswell due into Monday.
This is being generated by a strong polar low that developed south-east of South Africa Sunday evening, with a fetch of severe-gale to storm-force W/SW winds being generated on the polar shelf as it moves east.
The low is expected to ease while projecting north-east towards WA, helping increase the consistency of the swell.
We may see the swell arrive late Sunday and peak Monday to a good 6-8ft+, easing back from the 6ft range Tuesday morning.
A couple of less favourably aligned and late forming polar fronts behind the low should generate some reinforcing S/SW groundswell pulses for Wednesday and Thursday but only to the 6ft range max.
16 day Bali Forecast Graph
16 day East Java Forecast Graph
16 day Sumbawa Forecast Graph
Ments: Todays acute S'ly groundswell should be providing solid but inconsistent sets across exposed breaks to the south, but we'll see this ease into tomorrow, further Thursday and into Friday leaving small waves across the region.
Light variable winds are due, increasing a touch from the W/NW Friday afternoon.
The S/SW groundswell due across Bali on the weekend isn't very favourable for us, with a slight lift to 3-4ft due Saturday afternoon, easing Sunday.
The larger S/SW groundswell for Monday is also being generated too far south and east of our swell window, with inconsistent sets to 5-6ft due across south facing breaks, easing back into Tuesday with the rest of the week due to remain small and around 3-4ft or so.
Winds should remain light and variable for the most part, creating clean conditions at most breaks.
16 day Mentawai forecast graph
16 day Nias forecast graph
16 day South Sumatra forecast graph