Tuesday, 14 June 2016
Slow forecast period ahead
Java, Bali, Lombok, Sumbawa forecast by Craig Brokensha (issued Tuesday 14th June)
Best Days: Exposed breaks from tomorrow each morning, protected reefs from Thursday
This week and next (Jun 15 - 24)
Easing swell has been seen the last couple of days after a modest pulse of size Sunday.
From tomorrow some small to moderate S/SW groundswell energy is expected with a slow increase in size through the day ahead of a better pulse Thursday.
Size wise exposed breaks are due to climb slowly towards 4-5ft tomorrow afternoon, with Thursday's pulse providing better 6ft sets through the day, easing back slowly from 4-5ft+ Friday morning.
Fresh E/SE trades will develop each day, lighter and more variable early each morning (less so tomorrow morning).
Our very long-range and inconsistent SW groundswell due for this weekend is still on track, mixed in with some moderate sized and more consistent S/SW energy Sunday afternoon.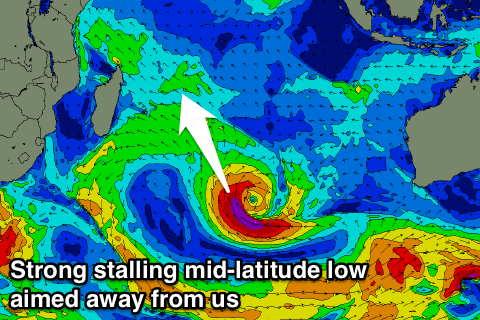 The long-range swell was generated by a very distant but strong storm under South Africa. The swell is expected to start building Friday, reaching 4-5ft+ by dark before peaking Saturday to a similar 4-5ft but with larger clean-up 6ft+ sets. Some more consistent S/SW swell from weak polar fronts south-west of WA should also generate surf in the 4-5ft range Sunday afternoon, softening the easing trend before dropping more noticeably into early next week.
Weaker E/SE trades will develop from Saturday, opening up more options for a surf through the mornings.
Also of note is a very intense and stalling mid-latitude low forecast to develop in the southern Indian Ocean. This will be unfavourably aligned for us and be aimed better for the Seychelles and Maldives.
Unfortunately we'll see a slow period of waves through most of next week ahead of some better S/SW groundswell on the cards for later in the week/weekend. More on this Thursday.
16 day Bali Forecast Graph
16 day East Java Forecast Graph
16 day Sumbawa Forecast Graph