Tuesday, 7 June 2016
Large powerful S/SW groundswell for the coming days
Java, Bali, Lombok, Sumbawa forecast by Craig Brokensha (issued Tuesday 7th June)
Best Days:
This week and next (Jun 8 - 17)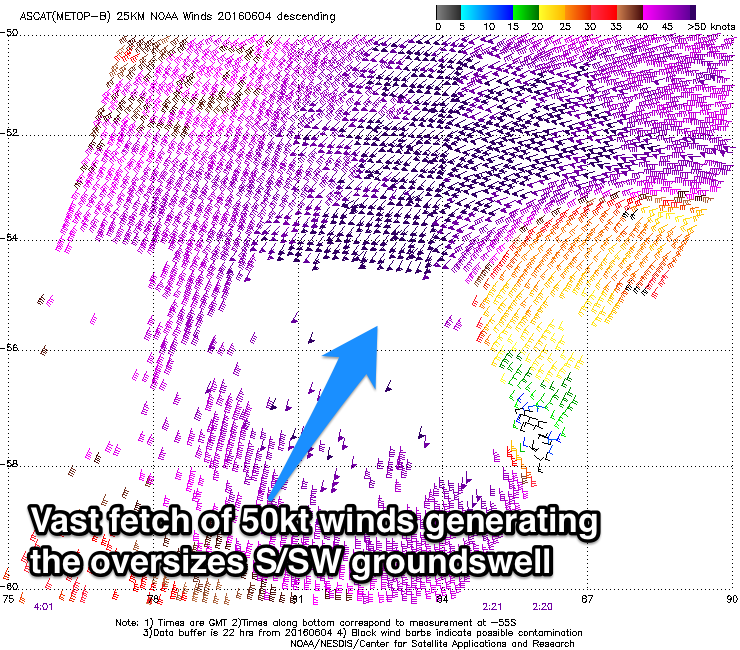 Solid large waves all weekend between 6-8ft across exposed breaks, easing back into yesterday and further this morning.
This week's oversized S/SW groundswell is still on track with satellite observations confirming a vigorous polar low forming in the Heard Island region, aiming storm-force SW winds towards us for a prolonger period of time.
The swell impacted WA yesterday with peak periods of 22s and the swell rising to a huge 5m.
We should see the long-period fore-runners of this swell arriving through overnight, with the groundswell proper building strongly through tomorrow, reaching 6-8ft by midday and then a larger 10-12ft on dark.
A peak is expected Thursday to a large powerful and dangerous 12ft+ on the sets at exposed breaks, holding most of the day before easing back from the 10ft range Friday morning, further Saturday from 6ft+.
Moderate to fresh E/SE trades are set to favour the reefs over the coming period, lighter and variable early each morning.
Into Sunday a small to moderate and inconsistent S/SW groundswell is due from a polar low currently east of Heard Island, likely topping exposed breaks back up to 4-5ft.
Longer term persistent polar fronts will continue to generate groundswell pulses through next week in the 4-6ft range, with a larger swell on the cards late week. More on this Thursday.
16 day Bali Forecast Graph
16 day East Java Forecast Graph
16 day Sumbawa Forecast Graph