Sunday, 17 April 2016
Fun pulses of swell for exposed breaks
Java, Bali, Lombok, Sumbawa forecast by Craig Brokensha (issued Sunday 17th April)
Best Days: Every day over the coming period at swell magnets
This week and weekend (Apr 18 - 24)
Yesterday afternoon a very infrequent south-west swell started to build across the coast, and this has peaked this morning, with good waves across swell magnets and the Bukit reefs (below).
This swell will ease back through this afternoon and further into tomorrow back to a very inconsistent 3-5ft across swell magnets.
A slight increase in new and more consistent S/SW swell is due Tuesday, generated by a relatively weak but pro-longed polar frontal system along the polar shelf the end of last week.
A slight kick back to 4-5ft is due across exposed breaks (very small on the Bukit), easing back through the afternoon and further into Wednesday.
Conditions should be clean each morning with light local offshores before moderate to fresh E/SE trades kick in.
Some slightly stronger polar frontal activity has occurred and will continue to occur west of Heard Island over the coming days, generating three separate pulses of inconsistent S/SW groundswell (the last more SW in direction).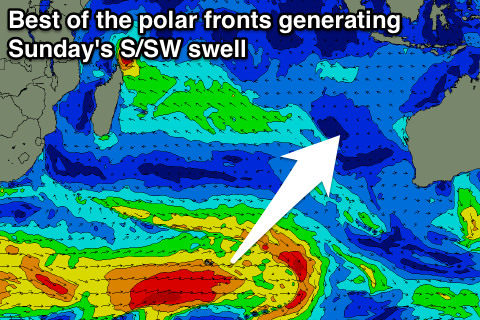 The first front produced a good fetch of gale to severe-gale W/SW winds, but the second system is a touch stronger and broader, producing a slightly larger swell. The final front will be smaller in scope but a bit more north in latitude helping produce a slightly smaller but more SW directed swell.
Thursday afternoon is when the first pulse is due to arrive, with exposed breaks due to reach an inconsistent 4-5ft into the afternoon, easing back slowly through Friday.
The secondary stronger swell is due to arrive later Saturday and peak Sunday morning to a better but inconsistent 5-6ft across exposed breaks, easing into the afternoon and further Monday.
The final more SW pulse is only due to buffer the easing trend Tuesday keeping swell magnets around 4-5ft.
Favourable winds should continue through the weekend and early next week (a touch stronger from the E/SE this Friday).
Longer term there's still nothing too significant on the cards, but we'll review this Tuesday.
16 day Bali Forecast Graph
16 day East Java Forecast Graph
16 day Sumbawa Forecast Graph