Thursday, 16 July 2015
Nothing significant until later next week
Java, Bali, Lombok, Sumbawa forecast by Craig Brokensha (issued Thursday 16th July)
Best Days: Exposed spots early over the coming days, and into next week
This week and next week (Jul 17 – Jul 24)
The coming period isn't too exciting, with moderate levels of background S/SW groundswell ebbing and pulsing through the weekend (biggest Sunday) before backing off a touch into the middle of next week.
Exposed breaks will be the best options, although strong E/SE trades will limit the best conditions to the few hours after dawn through the weekend, before backing off into next week.
Size wise, tomorrow will start small, with a slight lift Saturday morning to the 4-5ft range, with Sunday providing better 5-6ft sets.
A slight drop should be seen Monday and then further Tuesday, with a small reinforcing pulse for Wednesday in the inconsistent 4-5ft range.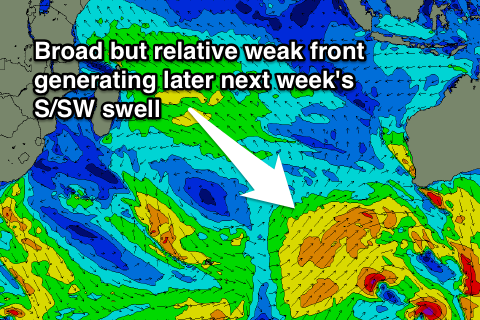 Later in the week some better and more consistent S/SW groundswell is on the cards from a broad but not overly strong polar front pushing up towards and then into WA.
This should produce a fun S/SW groundswell that's due to build Thursday, reaching 6ft at exposed breaks later in the day, holding Friday to a similar size. A secondary pulse may be seen Saturday more in the 6ft+ range, from a secondary front pushing up towards WA, but we'll have a closer look at this on Tuesday.
Longer term there's plenty of moderate to large pulses of S/SW groundswell on the cards, but check back here Tuesday for an update on this.
16 day Bali Forecast Graph
16 day East Java Forecast Graph
16 day Sumbawa Forecast Graph